President Obama spoke about the economy at the Brookings Institution.

"We acted to get lending flowing again, so businesses could get loans to buy equipment and ordinary Americans could get financing to buy homes and cars, to go to college, and to start or run businesses. We enacted measures to stem the tide of foreclosures in our housing market, helping responsible home owners stay in their homes and helping to stop the broader decline in home values which was eating away at what tends to be a family's largest asset.

To achieve this and to prevent economic collapse, we were forced to extend assistance to some of the very banks and financial institutions whose actions had helped precipitate the turmoil. We also took steps to prevent the rapid dissolution of the American auto industry."

—–

Now, partly as a result of these and other steps, we are in a very different place today than we were one year ago. We may forget, but we're in a very different place. We can safely say that we are no longer facing the potential collapse of our financial system and we've avoided the depression many feared.

This all sounds great, and if you were a follower of only the news coming out of the White House or main stream media, you might actually believe this drivel.
Commercial and Consumer Lending
Lending has not started flowing yet. In fact, according to the Federal Reserve, as of October 9, 2009, total loans at commercial banks have fallen at a 19% annual rate over the past three months, while loans to businesses have dropped at a 28% annualized pace. (source: Market Watch)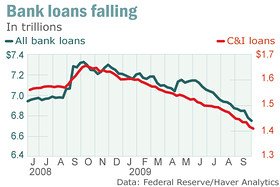 Contrary to Mr. Obama's review of the facts, consumer lending has not improved, and has dropped significantly, even while banks were supposedly lending. To make it easy for non-believers, we direct you to a graphical representation of this, provided by Karl Denninger at Market Ticker: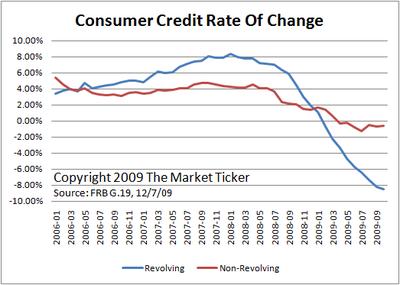 Home Prices and Foreclosures
For the time being, it can be argued that the broader decline in home prices has been stopped. But really, it's more of a delay than anything else. Home prices were overvalued at the top of the real estate bubble. Will anyone really argue this point? Here is an excellent and simple to understand video from Glen Beck. You'll notice that housing prices were inflated nearly 100% over what the average cost of a home should be in real terms based on decades of data:
If cyclical analyst Martin Armstrong is right about his Forecast for Real Estate, we can expect the real estate bust to continue for not months, not years, but possibly decades.
Regarding foreclosures, a responsible observer must wonder if we have actually "stemmed" the tide. Perhaps we have seen some month over month positive numbers, but the broader trend is pointing up for foreclosures and delinquencies, especially if you consider the fact that a second wave of the mortgage meltdown is going to fire up some time in the 2nd quarter of next year.
Forced Bail Outs
No one "forced" the White House, Congress, Fed and Treasury to bail out incompetent financial institutions. If anything, it was these government branches and agencies that forced the American taxpayer to be used as collateral to bailout companies that should have gone broke. They are, in fact, still insolvent, and it is a matter of time before the mathematical reality hits.
Did we really prevent the rapid dissolution of the American auto industry? Perhaps no one has noticed, but the fact of the matter is, auto sales are down, significantly, year over year, as is detailed in the following chart from Motor Intelligence: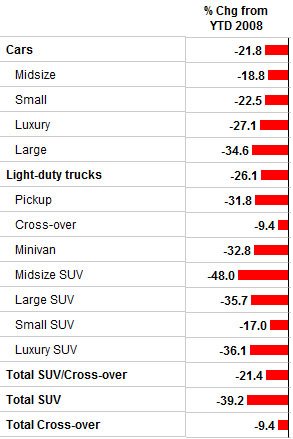 Cash for clunkers did nothing but extend the game a bit longer and strap tens of thousands of Americans with more debt in a time when they should be saving, not spending. The cars sold actually pulled forward future sales, so we may very well continue to see car sales decline further in 2010 and beyond.
The Depression Has Been Avoided
As mentioned previously, it is likely that the banking system is insolvent. For more information on this, we can turn to one of our favorite analysts yet again, Karl Denninger:
The entire banking system and likely The Fed, given the quantity of Fannie and Freddie paper it has been and is "eating", is insolvent.  These facts are why the government is lying – they're well-aware of the near-zero cure rates and know that these facts mean that the banking industry has nowhere near sufficient capital to withstand these losses without folding like a paper cup getting stomped on by an elephant.
Mr. Obama's comments are a blast from the past. In June of 1930, when a delegation came to see Herbert Hoover to request a public works program, President Hoover responded with:
""Gentlemen, you have come sixty days too late. The Depression is over."
From the time President Hoover made his comments in June to December 31, 1930, the Dow Jones dropped 33%. By December of 1931, the Dow had dropped a whopping 70%. We know the rest of the story.
A depression has not been avoided. Some have not yet noticed. Some refuse to admit it. Others realize what is happening.
We are living through the next Great Depression right here and now.
Click here to watch the President's speech at the Brookings Institution…