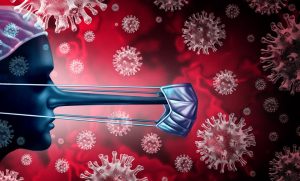 The New York Times had to issue a correction on an article by its Covid-19 reporter Apoorva Mandavilli, who likely intentionally inflated the number of children in the United States that were hospitalized with the virus to 14 times the actual level. We already know that they are lying, this shouldn't surprise anyone, but it should wake some sleeping sheep up.
Mandavilli claimed in her article, published on Tuesday, that nearly 900,000 Covid-infected children had been hospitalized in the US since the pandemic began. As the Times admitted on Thursday, the available data shows that the correct figure from August 2020 to October 2021 was more than 63,000. -RT
The New York Times is a super spreader of misinformation https://t.co/GWyhT83yyh

— Christina Pushaw ? ?? (@ChristinaPushaw) October 8, 2021
But that's not all this particular author lied about.
The correction also noted that contrary to Mandavilli's reporting, Sweden and Denmark haven't begun offering single-dose vaccines to children. The newspaper added that the story misstated the timing of an upcoming FDA meeting regarding proposed use of the Pfizer-BioNTech vaccine in children as young as five years old. -RT
The mainstream media has lied repeatedly and no one seems to give a damn. At least most alternative sites state they are operating under speculation. However, the one thing all MSM has in common is that they all beLIEve that COVID-19 actually exists. In any sane world, people could look around and see that this is not even close to a pandemic. This is a straight-up psychological operation designed to instill fear into the masses and convince them to take a damn shot.
The Times' former lead reporter on Covid-19, Pulitzer Prize nominee Donald McNeil Jr., resigned under pressure in February after co-workers campaigned for his firing. His sin was responding to a high school student's question about a classmate's use of the N-word by repeating the slur when he asked for context on how it was used. He had worked for the newspaper since 1976.
We are being lied to, We have been being lied to about almost everything since the day we were born. None of us are free, and once that illusion crumbles, we can finally work together to actually live freely.