This article was originally published by Matt Agorist at The Free Thought Project. 
On Dec. 16, in Seoul, South Korea, Carlos Tejada received a Moderna mRNA/LNP "booster." Later that night, he would die of a heart attack. Tejada was the deputy Asia editor of The New York Times, who helped shape coverage of the global Covid-19 crisis in 2021 that won a Pulitzer Prize, according to the NY Times.
Carlos' wife Nora Tejada took to her husband's Twitter account the next day to announce that her husband had died of a heart attack. The screen capture below was taken before the account was locked.
The day before he died, Tejada took to his Instagram to post a photo of himself receiving the booster shot.
"Double-vaxxed. Janssen-fueled, Moderna-boosted. Hey, Omicron: Hit me with your wet snot," Tejada joked. "All I had to do was fill out this form in a language I can't read."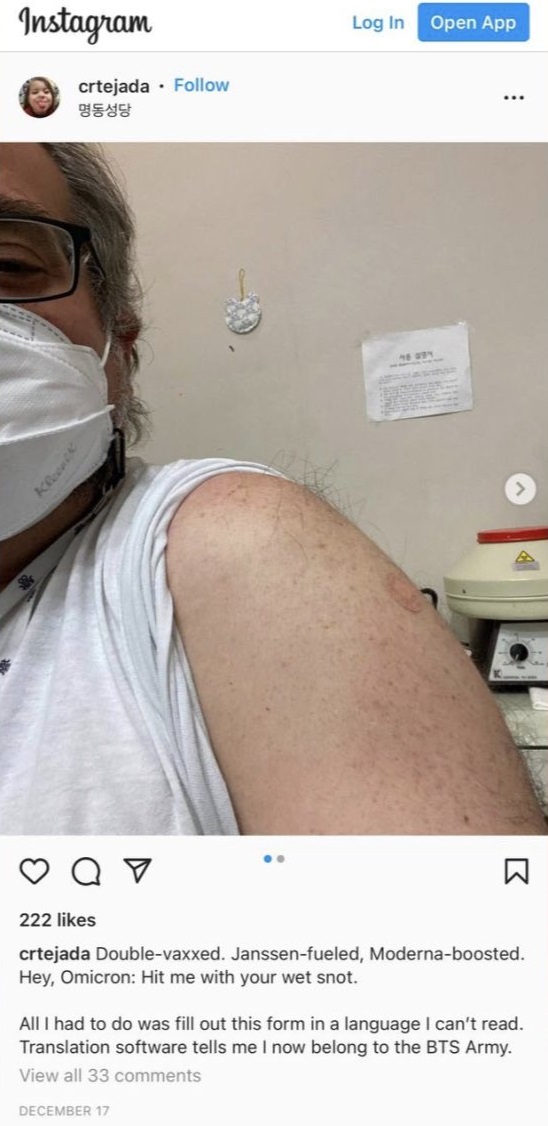 Alex Berenson is a former New York Times reporter who previously worked with Tejada and who made some keen observations about Tejada's case. According to Berenson, no clinical trials have ever been conducted to examine the safety or efficacy of mixing various types of these vaccines. What's more, Carlos did not give informed consent, as the consent form was in Korean, a language he could not read.
In a twist of irony, in May, Tejada took to Twitter to post an article debunking the claim that the vaccine had killed people.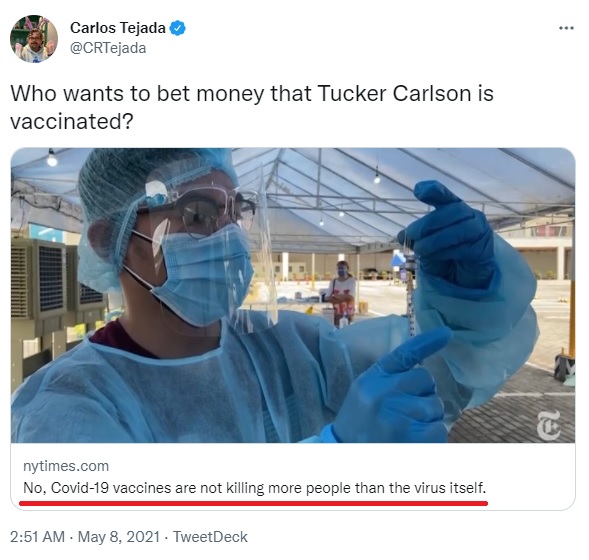 As Berenson said in his article on Substack, "If this does not wake the Times nothing will."
Earlier this month, the Centers for Disease Control and Prevention released new data showing a total of 965,843 reports of adverse events following COVID vaccines were submitted between Dec. 14, 2020, and Dec. 10, 2021, to the Vaccine Adverse Event Reporting System (VAERS).
This most recent data included a total of 20,622 reports of deaths and 159,166 reports of serious injuries, including deaths, during the same time period.
As we reported earlier this month, a study by researchers at Columbia University suggested that this number could be a massive undercount. Given the factor of 20 found by the researchers in this study, according to the most recent VAERS numbers, that would mean 400,000 deaths possibly attributed to the covid jab.
After watching so many people die, and receiving personal emails from folks telling their stories, Alex Berenson issued a promise to Pfizer and BioNTech, and Moderna.
By the time I'm done the world will know what you knew and when you knew it. This isn't about depopulation conspiracy theories; it's about a drug – not a vaccine, this isn't a vaccine by any reasonable definition – you rushed to market with the promise of zero liability and tens of billions of dollars in profits, a drug that looks worse by the week. It's about risking the hearts of healthy kids to make morbidly obese adults feel a little better; it's about getting the result you want in a clinical trial after a few months and blowing up the trial – for a drug that is supposed to be given to billions of people – and not once, but over and over.

So, yeah, I'm not going to forget. I don't feel pity, or remorse, or fear, and I absolutely will not stop until the truth comes out.