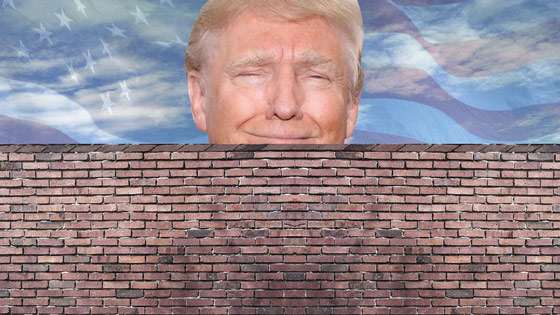 This article was written by Michael Snyder and originally published at the Economic Collapse Blog.
Editor's Comment: It all boils down to politics; there's the politics of the campaign, and then there's the real politics of Washington deal making and budgets. Who knows if there will ever be a border wall, or if a better arrangement could be made. What is clear is that the American people can try again and again to get a government that will do its bidding, but there was a higher bidder a long time ago.
The Democrats Get Trump And The Republicans To Fold, And That Means There NEVER Will Be A Border Wall
by Michael Snyder
Well, that didn't take long.  Yesterday I reported that the Democrats were threatening to force a government shutdown if money for a border wall was included in the bill to fund the government, and one day later Donald Trump has unconditionally surrendered.  Despite all of Trump's promises, a border wall isn't going to happen at this time, but of course he is pledging to "try again" in September.  But will anything change for the Democrats between now and September?  Of course not.  The Democrats will continue to use these same tactics whenever funding for a border wall comes up, and because Republicans always end up backing down on the most controversial issues that means that there never will be a border wall.
Do you know why the Democrats always get virtually everything that they want?
It is because they have a backbone.
They would have been willing to force a government shutdown that could have lasted for many months just to make sure not a single penny of taxpayer money was allocated for a border wall.
I certainly don't agree with their principles, but at least the Democrats are willing to stand up for them.
On the other hand, Trump is showing that he is willing to flip flop on just about anything once he meets the least bit of resistance.
And if Trump is willing to give up on his number one campaign promise so easily, what else will he be willing to give up on?  The Huffington Post has compiled an excellent timeline of Trump's border wall promises right here.  As you can see, he was very bold while he was campaigning, but now according to NBC News he has essentially thrown in the towel on a border wall less than 100 days into his presidency…
President Donald Trump has indicated that he's willing to back away from his demand that a government funding bill include money to build a wall on the Southern border, a move that could help clear the way for Congress to avoid a shutdown.

A senior administration official tells NBC News that the president is open to obtaining funding for the border wall in the regular appropriations process for 2018 later this year instead of insisting it be included as part of the large spending bill to keep the government's lights on past this week.
Of course we are being told that building the wall is still "an important priority" for Trump and that the administration will try again in September.  The following comes from Bloomberg…
"Building that wall and having it funded remains an important priority to him but we also know that that can happen later this year and into next year, and in the interim you see other smart technology and other resources and tools being used toward border security," Trump counselor Kellyanne Conway said on Fox News on Tuesday.
But why in the world would the Democrats change their minds and give him funding for a border wall in a few months when they are so vehemently against it right now?
I have to say that I agree with Rush Limbaugh on this one…
"The Democrats seem to have successfully used this stupid, silly threat of a government shutdown to get their way," Limbaugh said Tuesday, in one of his first major rebukes of the president. "What Trump is saying is if we need to get this done, then I'll delay the spending on the wall until September. And it's just a measly billion dollars."

He continued: "Trump, I'm sure, does not ever think he caves on anything. But outward appearances are what they are. And the bottom line is that if he is willing to withdraw a demand of his for a measly billion dollars for the wall because the Democrats are threatening a shutdown, then the Democrats will have just learned that this threat works on Trump, too, not just all the other Republicans."
Of course Trump and the Republicans have caved in on defunding Planned Parenthood too.
Actually I don't think that they ever intended to put up much of a fight.
This is another battle that the Democrats would have been willing to shut down the government indefinitely to win.  They are completely united in their support for Planned Parenthood, and they would have been willing to risk the greatest governmental crisis in U.S. history to get their way.
So even though the Republicans control the White House, the Senate and the House of Representatives, the Democrats are winning on big issue after big issue because they back up their convictions with courage.
Yes, there are potentially other ways that the Republicans could sneak the defunding of Planned Parenthood into various pieces of legislation, but because enough Republican members of Congress are "squishy" on this issue it isn't likely to ever actually happen.
I have said it before, and I will say it again.  If Planned Parenthood was going to ever be defunded, now was the time.
Since the Republicans have chosen not to even put up a fight, that is a very, very ominous sign for our nation.
Just like every single one of the Democrats, any Republican that votes for any bill that includes funding for Planned Parenthood or that signs such a bill is going to be partially responsible for the blood of the countless number of babies that Planned Parenthood slaughters each year.
Unfortunately, most of these gutless Republican politicians seem unwilling to stand up for much of anything these days.  In fact, one Republican member of Congress has openly stated that she is "not going to risk a shutdown over anything"…
Republicans will also be content: many members of the GOP had indicated they would be satisfied with a spending bill that included money for means of strengthening security along the border other than a wall. "Border security's the main issue—whether that includes a wall or technology, drones, or repairing what we have," Sen. Shelley Moore Capito (R., W.Va.) said Monday evening. Ms. Capito said she wasn't interested in risking a shutdown over the border wall.

"I'm not going to risk a shutdown over anything," she said.
So the Democrats are going to use the threat of a government shutdown to get their way on these big issues year after year until Republicans finally grow some spines and decide to stand up for themselves.
This article was written by Michael Snyder and originally published at the Economic Collapse Blog.
---

Michael T. Snyder is a graduate of the University of Florida law school and he worked as an attorney in the heart of Washington D.C. for a number of years.
Today, Michael is best known for his work as the publisher of The Economic Collapse Blog and The American Dream. 
If you want to know what is coming and what you can do to prepare, read his latest book [amazon text=Get Prepared Now!: Why A Great Crisis Is Coming & How You Can Survive It&asin=150522599X].