A former North Korean soldier was shot by his former comrades for attempting to defect to South Korea across a demilitarized zone. The soldier reportedly left his post and tried to get to Freedom House on South Korea's side of the border.
The soldier was reportedly defecting from a North Korean guard post at the Joint Security Area (JSA) on the heavily-guarded border between the two countries. The soldier is said to have left the North Korean guard post in front of Panmungak, on the border inside the demilitarized zone, and proceeded to move towards Freedom House on the South Korean side.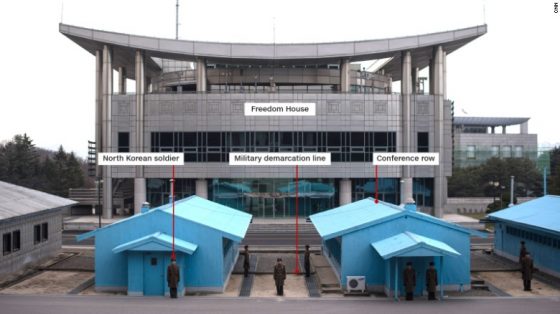 This is the third defection by a member of the North Korean military this year, following two soldiers who fled to South Korea separately in June. Prior to 2017, there had only been four military defectors from North Korea over the past five years: one in 2016, one in 2015 and two in 2012.
The defecting soldier is, fortunately, in South Korean custody. Although he was shot, he succeeded in making it to South Korea. He is injured, but alive. Robert Kelly, an associate professor at the Department of Political Science at Pusan National University, said the prominent defection and the shooting was "genuinely surprising." Kelly added: "It's fairly unusual, I can't think of the last time (a defector was shot at) … it certainly adds to the tensions."
Alerted by gunshots, South Korean guards found the North Korean soldier about 55 yards south of the borderline that bisects Panmunjom. He was taken to a hospital with gunshot wounds to an elbow and shoulder, South Korean officials said.
His defection took place amid a joint naval exercise involving three American aircraft carriers in waters off South Korea's east coast. It was the first time in a decade that the United States Navy had mobilized three carrier groups in the same drill in the western Pacific, and it represented the show of force that President Trump has said Americans "hope to God we never have to use" against North Korea. –New York Times
The Joint Chiefs of Staff have also raised the alert levels running on the assumption that this defection will be seen as a provocation and heighten already sky-high tensions.  "Our military has raised the alert level in anticipation of North Korean provocation. The military is maintaining a full readiness," the Joint Chiefs of Staff statement said.