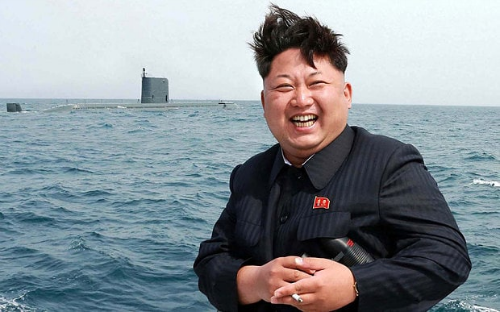 CNN allegedly found a North Korean defector through University researchers working in conjunction with the South Korean government. The news outlet interviewed the alleged defector, who claims Kim Jong-Un's days as "supreme leader" are numbered.
CNN says that the defector had worked among the elites in Pyongyang. In order to protect the man's anonymity, the descriptions and his name were omitted from the interview. He is said to fear being hunted down by North Korea and his family harmed should his identity be known. He is by far, however, the most recent defector CNN has ever interviewed; he's only been free from North Korea for one year. But, he had a few predictions about the North's borderline psychopathic dictator…
In 2011, Kim Jong Un's father, Kim Jong Il, died. Kim Jong Un took over and "tried his best," says the defector. He gave gifts, and in a public appearance, allowed his voice to be broadcast on North Korean state run television. The perception among the people was that life was about to improve inside North Korea. "It was a false image," he says.

In December 2013, the regime announced the second most powerful man in North Korea, Jang Song Thaek, was being expelled from the ruling Workers' Party of Korea. Jang was accused of a litany of crimes, from obstructing the nation's economic affairs to anti-party acts. The allegations stunned for several reasons, primarily for who the regime fingered — Jang is Kim's uncle.

"Kim Jong Un revealed his true side," says the defector. Jang's arrest was broadcast on state television, followed by a statement calling him "despicable human scum, worse than a dog." State media then announced he was executed.
The defector that CNN interviewed expressed confidence in his opinion that the elites' loyalty to Kim Jong-Un has deteriorated and will continue to do so. He says that conviction is how he was able to leave his family behind because he believes he will reunite with them one day.
"I can tell you for sure, the North Korean regime will collapse within 10 years," he says without hesitation. "Kim Jong Un is mistaken that he can control his people and maintain his regime by executing his enemies. There's fear among high officials that at any time, they can be targets. The general public will continue to lose their trust in him as a leader by witnessing him being willing to kill his own uncle."
Yet Kim Jong-Un has all the power in North Korea.  Meaning those who lose trust in the "supreme leader" may face their ultimate and untimely demise. It's no secret why this defector is keeping his identity well hidden.