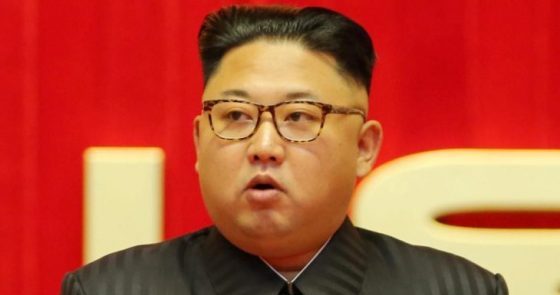 In the ongoing quest to become a nuclear superpower, North Korea has been making some impressive strides, worrying analysts. But one of their tests failed by all measures less than a year ago, as one of their first targets may have been themselves.
On April 28, 2017, a North Korean ballistic missile crashed and hit the urban city of Tokchon, roughly 40 miles north of Pyongyang, The Diplomat reported. This ballistic missile test that went horribly wrong was not previously known, but likely resulted in at least some casualties and considerable damage to buildings.
North Korea launched a single Hwasong-12/KN17 intermediate-range ballistic missile (IRBM) from Pukchang Airfield in South Pyongan Province (the Korean People's Army's Air and Anti-Air Force Unit 447 in Ryongak-dong, Sunchon City, to be more precise). That missile failed shortly after launch causing it to strike in the Chongsin-dong.
According to a U.S. government source with knowledge of North Korea's weapons programs who spoke to The Diplomat, the missile's first stage engines failed after approximately one minute of powered flight, resulting in catastrophic failure. The missile never flew higher than approximately 70 kilometers. The location of the missile's eventual impact was revealed exclusively to The Diplomat and evidence of the incident can be independently corroborated in commercially available satellite imagery from April and May 2017. –The Diplomat
In April, most of the reports of the circumstances of this particular failed launch were sparse. Most noted only that North Korea launched a single missile that failed in flight. U.S. Pacific Command stated that the missile was launched from "near" Pukchang Airfield, a previously unused launch site for North Korean ballistic missile testing. As The Diplomat reported in June, contrary to other reports at the time, the three missiles tested in April were not anti-ship ballistic missiles, but a new type of intermediate-range ballistic missile.
The Diplomat cross-referenced the failed missile's approximate landing site with Google Earth and other satellite imaging to find that the suspected landing area did indeed seem to show signs of "considerable damage to a complex of industrial or agricultural buildings." Several structures appeared damaged in satellite images, reportedly by debris from the failed launch.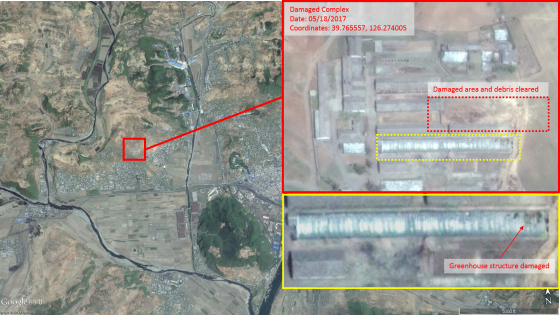 An image from Google earth of the complex show ground disturbances in an area that previously contained a building with fencing, also showing that a portion of the seasonal greenhouse had been damaged near the side of the complex where the debris fell. Using Planet Labs' high-frequency satellite images of this site, we can narrow down the date which this change occurred, which was sometime between the 26th and the 29th, or the two-day window in which the test is known to have occurred.