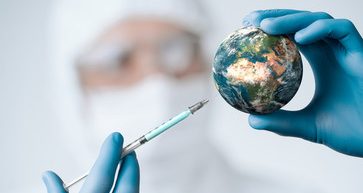 In spite of over 77% of the population getting injected with experimental mRNA gene therapy shots, there is yet another outbreak of COVID-19 in New Zealand. The country is now reporting near-daily record case numbers.
Following the rend already set by Israel, New Zealand is set to have a record number of people infected with COVID even though a large majority of the population is fully "vaccinated." The master in control of the slaves populating the nation said this new outbreak is "like nothing we've experienced," according to a report by The Guardian. 
New Zealand's prime minister master, Jacinda Ardern, has warned that the country is entering a new phase of its pandemic response that is "like nothing we've experienced to date", as case numbers begin to explode. "We are embarking for the first time in the two years since the start of the outbreak into a period where New Zealanders will see more Covid in the community," Ardern said on Monday.
How is that possible when the majority have already obeyed their ruler and complied with shots that were supposed to prevent this? Look to Israel for the answers:
Israel's Vaccination Program Is Failing: 6 Month High In New Cases
Additionally, documents released by the ruling class in the United Kingdom show the "vaccines" are actually giving people AIDS, the "vaccine" induced form of the deadly disease.
Comparison of Official Government Reports Suggest Fully Vaccinated Are Developing Acquired Immunodeficiency Syndrome

We know the masters need to keep the slaves in a constant state of fear and prevent them from seeing the truth. But they should be more concerned about what these forced injections and their masters are doing to them instead of worrying about getting a cold.
New Zealand has been reporting near-daily record highs in case numbers, as infections begin to hit an exponential growth curve. On Monday, officials announced 981 cases in the community, up from previous all-time highs of 810 on Sunday and 454 the day before. The latest additions mean there are 4,960 active cases recorded across Aotearoa – but experts say the true number is likely much higher, given the lag in test results, and the fact testing is only advised for those with symptoms or who have been a direct contact of a case.
Reuters has reported that New Zealand's cases are at record highs now, and increasing. Aren't we glad these "vaccines" are working? Reuters also reported that New Zealand has administered at least 10,113,614 doses of COVID vaccines so far. Assuming every person needs 2 doses, that's enough to have vaccinated about 102.8% of the country's population.
As people begin to figure out what's really going on and that these shots are not about health, the rulers will become desperate. They already are and it's showing. They need us all to remain afraid until they pull off another scam, and this one might actually be real. Let's stay alert and be aware. No master is willingly going to let their slaves go. Be cognizant of that, and prepare for it.