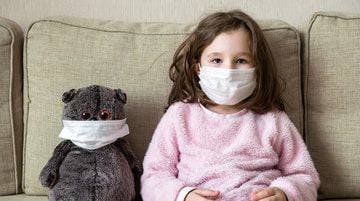 The long-awaited medical study from Denmark examining the ability of face masks to protect people from coronavirus was finally published on Wednesday. This study provides evidence counter to the propaganda dominant in media and government communications.
Providing good news for people suffering through wearing masks, and bad news for the politicians and businesses pushing the uncomfortable, dangerous, and dehumanizing dress code, the newly released medical study indicates face masks are not protecting people from coronavirus. Most of us can see this with our own eyes. People are masked up everywhere, yet cases are spiking and the majority of those contracting COVID-19 are religious mask wearers.
CDC Study: Most COVID-19 Cases Were Admitted Mask Wearers
Not to mention a hot mic moment when two politicians admitted that wearing a mask is political theatre. And still, people are putting on the ritualistic shame muzzle just because some liar in a suit ordered them to.  When did humans transform into such gullible mindless sheep?
Hot Mic Moment: Lawmakers Admit Masks Are All "Political Theatre"
Most Western elites are telegraphing the message that we will be forced to cover our humanity with cheap Chinese face burkas indefinitely. They are mandating that even two-year-olds must wear masks. The long-term effects on the lungs, emotional and behavioral problems and development of infants and toddlers is enormous. For such an unconstitutional invasion of personal liberty, they are responsible to show us some amazing degree of effectiveness of this cultish ritual. In fact, the data show the opposite. –The Blaze
No medical journal wanted to publish this study because it fails to follow the narrative handed down by tyrants. In fact, three medical journals were so averse to publishing its findings. However, science and facts are still more important than cult rituals to some. The Danish mask study was finally published yesterday in the prestigious Annals of Internal Medicine.  The study completely obliterates the cultish devotion to masks. The results of this massive real-life controlled experiment show that the group that wore surgical masks in April experienced a 0.38% lower infection rate than the control group that did not wear masks. That is about one-third of one percent, which is so low that it could just be statistically random variances that demonstrate no definitive efficacy even to that infinitesimal level.
"The recommendation to wear surgical masks to supplement other public health measures did not reduce the SARS-CoV-2 infection rate among wearers by more than 50% in a community with modest infection rates, some degree of social distancing, and uncommon general mask use," concluded the authors. "The data were compatible with lesser degrees of self-protection."
It appears that the study's authors had to twist their tongues in order to get this study published by noting that "the estimates were imprecise and statistically compatible with an effect ranging from a 46% decrease to a 23% increase in infection." They of course had to concede that their study doesn't definitely rule out the idea that masks could be effective! –The Blaze
Double-negatives in science are just hilarious.

The Danish study had to eat a bunch of mouth worms to get the thing published.

Concluding line:

"…cannot statistically exclude no effect." pic.twitter.com/xuyJRy4RS6

— Justin Hart (@justin_hart) November 18, 2020
The problem is every place has seen the virus spread to everyone in the ensuing months, including in places with 100% mask compliance. The Danish study results clearly corroborate what we see with our own eyes in all environments.
As we have said from the beginning, this is not about health.  It's about control. Just how far does this have to go before people wake up and realize it?