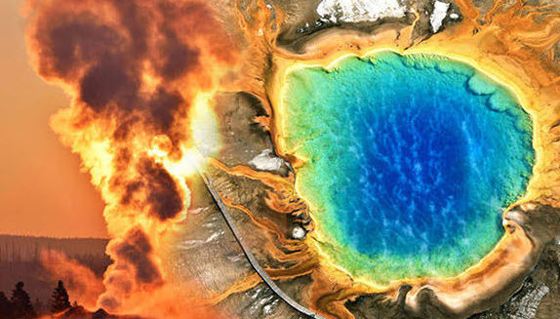 A 100-foot-long fissure near the Yellowstone supervolcano has prompted the closure of parts of Teton National Park. Coupled with the Steamboat geyser's newly active status, fears of an eruption at the Yellowstone caldera are increasing.
Teton National Park has issued a statement regarding the newly opened up fissure, according to WoodTV.  "The Hidden Falls and Inspiration Point areas are currently closed due to elevated potential for rockfall. The area was closed to protect human safety on July 10 after expanding cracks in a rock buttress were detected.  It is unknown how long the closure will be in effect. Geologists are monitoring the buttress for movement and have initiated a risk assessment for the area."
Although scientists continue to tell the public the possibility of a major eruption is incredibly small, they also believe it's worth the effort to constantly monitor the area. Hidden Falls and Inspiration Point are both closed and both are located in the popular Jenny Lake area. They are among the park's busiest attractions. Other Jenny Lake attractions, including the ferry, remain open.  There is no estimate on when these locations could reopen.
"We're really going to need a few more days of data to make a solid determination if the rock is still moving," park spokesman Andrew White said Friday according to Strange Sounds. Following data collection, park rangers will conduct a "risk assessment" to determine if the area can be reopened, he said.
The huge fissure the fissure on the buttress above Hidden Falls was discovered by Exum Mountain Guides on July 9  while training guided climbers for Teton ascents. By the next morning the gap had widened, so the closure followed citing a potentially dangerous "rockfall." But a report from July 3 stated that Yellowstone's magma chamber is "more powerful" than scientists had previously known.
Using a new way to track heat flow under the park, researchers now estimate Yellowstone's magma chamber could be recharging from deep within the Earth twice as fast as previously thought. But there's still no cause for alarm, even though all this news comes as the largest geyser in Yellowstone, the Steamboat geyser, becomes more active. It has now erupted for the eleventh time.