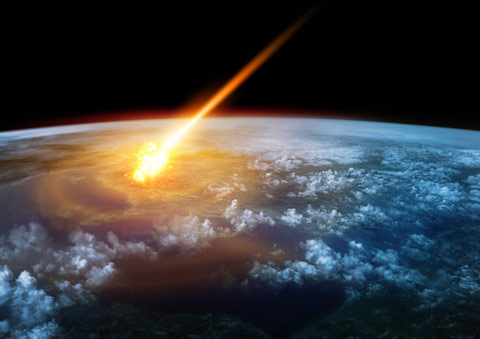 This article was written by Michael Snyder and originally published at his End of the American Dream blog.
Editor's Comment: Apparently, they are serious. Hollywood has dredged it up as a common threat from beyond – from Armageddon to Deep Impact and more – the fear of an asteroid or meteor hitting the planet and unleashing hellish destruction has entered the public psyche. And now government's are beefing up budgets to plan for the contingency of such an event – even as fellow experts swear there's no threat of an approaching impact for 100 years.
What is really going on, and what man-made mischief can/will make a 'long shot' threat into an imminent and disastrous one? Combine this one with the looming threat of an EMP attack, and mankind will be increasingly meddling with the space territory in his reach to weaponize and defend against terrible possibilities.
NASA Creates A 'Planetary Defense Coordination Office' That Will Track Meteors Headed Toward Earth
by Michael Snyder
Why is NASA suddenly so concerned about meteors and asteroids hitting the Earth? After telling us that "no large object is likely to strike the Earth any time in the next several hundred years" last year, NASA is now spending millions of dollars to set up a "Planetary Defense Coordination Office" that will be headed up by a designated "Planetary Defense Officer". According to NASA, more than 13,500 near Earth objects have been found so far, and another 1,500 new NEOs are being discovered each year. Approximately 10 percent of all near Earth objects are one kilometer or larger in size, and if one of those giant space rocks ever hit us, it would likely be considered an "extinction level event". It makes sense that NASA would be concerned about this threat, but why now?
The announcement of this new office was made on Friday, and very few mainstream news outlets covered it. But I did find this story on CNBC…
If and when the interplanetary asteroid apocalypse comes, NASA plans to be prepared.

In a little noticed move this week, the space agency announced that it had created a directorate for "detecting and tracking near earth objects (NEOs)."

The new Planetary Defense Coordination Office—which, despite its science fiction-sounding name, is part of a very real effort to ward off the potentially deadly impact of asteroids that may hit the planet—is charged with supervising "all NASA-funded projects to find and characterize asteroids and comets that pass near Earth's orbit around the sun."
Of course once again NASA played down the idea that there is any sort of "imminent threat" during the announcement of this new program, but if there is no threat why go to so much trouble and effort?
According to the Washington Times, one of the things that this new Planetary Defense Coordination Office will be focusing on is a way to "redirect" potentially dangerous asteroids…
The office is also developing long-term planetary defense goals. They include "asteroid redirect" concepts that could could push the threatening object off course and away from Earth – a program also of interest to the European Space Agency. NASA is poised for the worst case scenario as well.

"Even if intervention is not possible, NASA would provide expert input to FEMA about impact timing, location, and effects to inform emergency response operations. In turn, FEMA would handle the preparations and response planning related to the consequences of atmospheric entry or impact to U.S. communities," the space agency noted.
So why is this happening now?
Do they know something that they aren't telling the rest of us?
Last year, we learned that NASA had teamed up with the National Nuclear Security Administration to figure out a way to use nuclear weapons to "nudge a large asteroid off course". The following comes from an article in the New York Times about this effort…
The two agencies — NASA and the National Nuclear Security Administration — have long studied such threats on their own. They have surveyed the cosmic debris, designed rocket interceptors and run supercomputer simulations to see if a nuclear blast could nudge a large asteroid off course.

In interviews, federal officials and private experts said the new interagency agreement would deepen the levels of expert cooperation and governmental planning, ultimately increasing the chances of a successful deflection.

"It's a big step forward," said Kevin Greenaugh, a senior official at the nuclear security agency. "Whenever you have multiple agencies coming together for the common defense, that's news."
Someone over at NASA sure does seem concerned about these things all of a sudden.
After all these years, why have asteroids and meteors become such a high priority?
Something does not seem quite right, because NASA has been insisting that there is absolutely no threat in the foreseeable future. This is something that I covered in a previous article. According to NASA, "no large object is likely to strike the Earth any time in the next several hundred years"…
A NASA spokesman said: "NASA knows of no asteroid or comet currently on a collision course with Earth, so the probability of a major collision is quite small.

"In fact, as best as we can tell, no large object is likely to strike the Earth any time in the next several hundred years."
At a time when the federal budget is very tight and many federal agencies cannot get money that they desperately need, for some reason the sky is the limit for tracking dangerous meteors. In fact, CNBC says that funding related to tracking NEOs is now more than ten times higher than it was when Barack Obama first entered the White House…
NASA said that the recently passed fiscal year 2016 federal budget included some $50 million for observing NEOs and the new PDCO—a more than tenfold increase in funding since President Barack Obama took office.
But of course there is nothing to worry about according to NASA.
They assure us that no large object is going to hit our planet "in the next several hundred years".
They are telling us that they have everything under control and that we should all remain calm.
So do you believe them?
---

Michael T. Snyder is a graduate of the University of Florida law school and he worked as an attorney in the heart of Washington D.C. for a number of years.
Today, Michael is best known for his work as the publisher of The Economic Collapse Blog and The American Dream. 
If you want to know what things in America are going to look like in a few years read his new book The Beginning of the End.