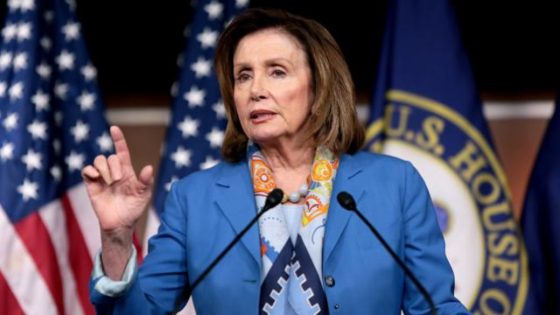 Nancy Pelosi has promised that Democrats will work to roll back the tax cuts enacted by president Donald Trump if her party takes over after the midterm elections. Apparently, the American people aren't having enough of their hard earned money stolen from them already.
Reporter Jake Sherman asked Pelosi to respond to a Republican ad that claims "you would like to institute a single-payer health care program and cancel — [raise] taxes, I think they mean, roll back the tax cuts they passed this year." Sherman asked Pelosi about her response to this at a breakfast event hosted by Politico. Democrats are no longer mincing words: they think they deserve even more of your money. 
"Well, the second part there is accurate," Pelosi chuckled (because paying taxes aka government theft is so funny when you're already living paycheck to paycheck) in response, before adding "I do think we should revisit the tax legislation in … a bipartisan transparent way."
Here's the video you'll be seeing all fall:

@NancyPelosi during her #PlaybookInterview
admits it's "accurate" she wants to "raise taxes" if Dems win the majority. https://t.co/QsUYmUiXON

— Matt Gorman (@mattsgorman) May 8, 2018
National Republican Congressional Committee spokesman Matt Gorman jumped on Pelosi's comment, tweeting: "I promise you that will be in almost every GOP ad this fall." Pelosi claims she objects to lowering taxes because it was "in the dark of night." However, she can't be bothered to feel the same about the awful Obamacare law that's flung many Americans into a state of poverty trying to figure out how to pay for or be taxed for the "crime" of not buying government-sanctioned health insurance.
"Now you've heard it straight from Nancy Pelosi's mouth: if Democrats take back the House and she's reinstalled as Speaker, your taxes will go up," Gorman said in an emailed statement. According to Fox News, in response, Pelosi spokesman Drew Hammill told The Washington Post that "Republicans are desperate to misrepresent any effort to roll back their debt-exploding tax giveaways for big corporations and the wealthiest 1 percent as 'raising taxes' on middle-class families."
To be fair, Pelosi is a millionaire and politician so higher taxes won't affect her like it will affect the rest of us she wants to steal more from. And her own words speak volumes. In January, Pelosi dismissed bonuses given to workers as a result of the tax reform plan as "crumbs" despite the fact that some workers received bonuses worth up to $2,000.