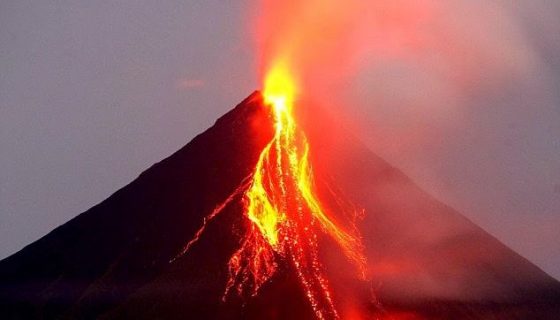 Warnings that Mount Mayon would soon erupt have caused over 50,000 Philippines residents living in the area to flee their homes.  Well, the volcano has erupted, complete with lava fountains and ash, and it's eerily beautiful.
Mount Mayon has spewed lava up to 2,000ft high and its ash plumes stretched up to three miles above the crater.  Cedric Daep, a provincial disaster response official, told a news conference that he has recommended electricity and water supplies be cut in the no-go zones to discourage residents from returning. "If pyroclastic flows hit people, there is no chance for life, Daep said. "Let us not violate the natural law, avoid the prohibited zone, because if you violate, the punishment is the death penalty."
The Philippine Institute of Volcanology and Seismology said the volcano that's been erupting for almost two weeks, at times very explosively, and still appears to be swelling with magma under the surface.
Mayon's most destructive eruption, in 1814, killed more than 1,200 people and buried the town of Cagsawa in volcanic mud. The Philippines, which has about 22 active volcanoes, lies in the "Ring of Fire," a line of seismic faults surrounding the Pacific Ocean where earthquakes and volcanic activity are common.
This is the third time since its eruption that Mayon has generated a lava fountain. Pyroclastic flows, superheated gas and volcanic debris that could incinerate anything in their path, reached 3 miles from the crater in one area, the Philippine Institute of Volcanology and Seismology said. "It's a logistical nightmare," Office of Civil Defense regional director Claudio Yucot said of the government's effort to look after the still-swelling number of evacuees in at least 66 emergency shelters in nine cities and towns in northeastern Albay province, where Mayon lies.
Based on its previous eruptions, Mayon's restiveness could last from two to four months, prompting Albay and national authorities to take steps to ease the impact on schools, public health and safety, livelihood, and law and order, officials said.  Officials have already had problems keeping people from entering the restricted zones to check on livestock or the condition of their homes.
Should any of these trends continue, Mayon could severely impact not only the global climate but become deadly.