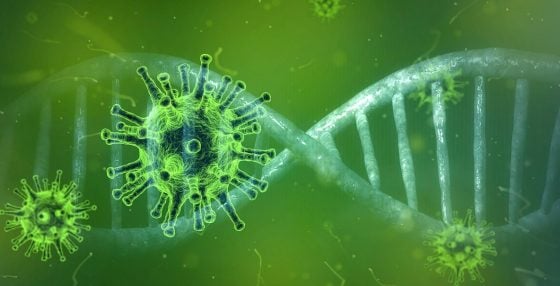 While the fear-mongering over the Delta variant continues in full force, another variant has allegedly surfaced. This one is from Japan and it's now in the United States.
It's time to be scared, roll up those sleeves, and take the ruling class's  "final solution."
Known as R.1, the new variant was first found stateside in Kentucky which, according to Governor Andy Beshear, is among the three states with the highest infection rates. R.1 was first identified via an outbreak at a skilled nursing facility there, according to a report by Deadline. The constant continuation of the panic and fear is what the ruling class is doing now. Sadly, eventually, we are going to probably see them release something that is disastrous, and not just rename the common cold.
The CDC ADMITS: PCR Tests CANNOT Differentiate Between Coronaviruses!
According to a Centers for Disease Control and Prevention report, among 83 residents and 116 healthcare workers, 26 residents and 20 workers tested positive for COVID (using the tests that pick up the common cold and the flu). Twenty-eight specimens were subjected to whole-genome sequencing and, on March 1, found to have mutations that aligned with the R.1 lineage. (The outbreak reportedly began with an infected staffer.) "Attack rates were three to four times as high among unvaccinated residents and [workers] as among those who were vaccinated," according to the findings.
"Attack rates?" But this isn't some sort of scam or hoax attack on the public? Jen Psaki recently let the truth fly when she clearly called this a "global PLANDEMIC."
What's worse, is that they are going to use this to get more people scared into taking a shot that doesn't work. And they admit it doesn't work. Roughly 90% of the facility's residents and 52% of the staff had received 2 vaccine doses. Among those, 25.4% of the residents and 7.1% of the workers were infected. That, according to the CDC analyses, raises concerns about reduced protective immunity to R.1 from vaccines.
They need a scapegoat for when these vaccines don't work and people have adverse reactions to them. They have already started hiding it in the way they disingenuously collect data and who is considered "unvaccinated."
While the CDC does not define R.1 as a variant of concern or interest yet, the strain does have several "mutations of importance." One of those "demonstrates evidence of increasing virus transmissibility," according to the agency. Others have also been seen in variants of concern which, according to the CDC, "show evidence of reduced neutralization by convalescent and postvaccination sera. Another mutation seen in R.1 might reduce the effectiveness of neutralizing antibodies." –Deadline
More COIVD-19 Vax Deaths: Think They'll Blame This On COVID-21?
An endless parade of scariants will be rolled out until everyone takes the shot. If enough people continue to refuse, a more sinister plot could be rolled out.  Watch, prepare, be aware. They are not going to stop until the agenda goals are met, and this "vaccine" is an obvious chunk of the ruling class's agenda.