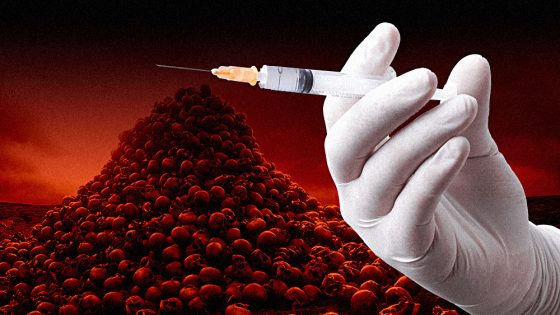 The rulers are telling their mainstream media puppets that they need to get the unvaccinated vaccinated before they start handing out boosters. It's becoming vital to their existence to get the shots in those who are still refusing.
According to a report by MassLive, Dr. Anthony Fauci on Sunday emphasized the importance of getting more Americans vaccinated against COVID-19, arguing there should be "no confusion" that vaccinations — as opposed to booster shots — remain the key to beating the pandemic. "Our highest priority still is getting the unvaccinated vaccinated," Fauci, the nation's top medical tyrant said on NBC News' 'Meet the Press.' "And there should be no confusion about that. The highest priority is not getting boosters. We think it's important to get boosters to people, but the overwhelming highest priority is to vaccinate the unvaccinated."
COVID-19 mRNA Shots Are Legally Not Vaccines
There is a sense of desperation to get these shots in more people. It's almost as if they are running out of time. Perhaps they are. Who knows. But it's obvious that this shot is a part of their totalitarian enslavement agenda and they need people to take it.
They are even doing everything they can to manipulate the data in order to panic people into getting this shot. But some have proven to be smarter than they anticipated, as they are picking up on the lies within the data.
Moderna Insists Booster Shots Are Needed: How Surprising, Considering They Will Make BILLIONS Off Them
 The Centers for Disease Control and Prevention says you are NOT considered "fully vaccinated" until you have had the second shot in your body for 14 days. That means when people are going to the hospital for vaccine injuries, they get to do two things. One, tell you it's a COVID case in an unvaccinated person, and two, hide the fact that it's a vaccine injury.  Watch this video below for more information:
Keep digging deep and keep researching and reading. Critical thinking skills will be as vital in the coming months, as they are right now. Keep using discernment and look deeper. Prepare and remain aware! Things continue to ramp up and at some point, it's going to explode.