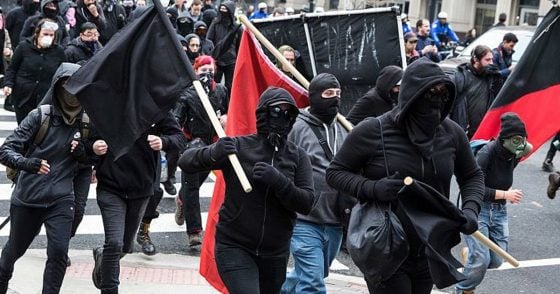 Portland is descending further into violence. Dozens of right-wing Proud Boys and leftist Antifa members have clashed in a chaotic street showdown in Portland, armed with a variety of improvised weapons ranging from bats and shields to paintball guns, mace, and fireworks.
The violence continues as those still firmly stuck in the left vs. right paradigm lie duke it out to see who's master and what ideology will control and rule everyone else.
SHOTS FIRED! #Portland pic.twitter.com/3DP8xRGw6v

— Mason Lake Media (@MasonLakePhoto) August 23, 2021
Active shooter in Downtown Portland. pic.twitter.com/xmjfGyrANm

— Sean Beckner-Carmitchel (@ACatWithNews) August 23, 2021
No one knows who fired shots first, although some witnesses say a member of the Proud Boys fired upon Antifa members after being chased. According to a report by RT, no injuries were reported, but several buildings and cars were damaged by gunfire. Police swiftly detained the shooter seen in the videos, who apparently did not resist arrest, but it was unclear whether they were looking for any other suspects.
I was stuck in a cubby of a doorway of sorts during the shooting and managed to slip my phone out and film a little bit. Nobody has been hit. A car took a little bit of damage though.

Video ID: Several journalists and passersby hide behind in between cars with gunshots pic.twitter.com/tRNv0iSJ6v

— Alix Powell (@thatpowellgirl) August 23, 2021
Before the shooting, Antifa and the Proud Boys were already violently clashing using any kind of improvised weapon available.  It sounds like this resembled gang activity.
According to a report by The Oregonian, the day began with a group of some 300 left-wing protesters swarming the area of central Tom McCall Waterfront Park and forcing a rival camp of around 100 right-wing activists to relocate their event to an abandoned Kmart parking lot in the northeast of the city.  Leftists descended upon right-wingers looking for chaos, and they found it. After Antifa chased off the Proud Boys, they followed them to their new location and began engaging in verbal exchanges and physical skirmishes.
At one point, a van crashed into the parking lot. The alleged 'left-wing agitator' behind the wheel was maced and chased away, and his vehicle was overturned by right-wing protesters. –RT
Proud Boys hold rally in northeast Portland and according to witnesses on the scene a 'left-wing agitator' drove a white van into the rally and crashed. The individual was then bear maced and chased out of the parking lot, according to witnesses pic.twitter.com/lVX77qfbsB

— Jorge Ventura Media (@VenturaReport) August 22, 2021
There was no visible police presence throughout the day, besides the officers who arrested the gunman and swept the scene. In the run-up to the showdown, Portland police warned that they won't intervene in clashes and instead "will be sharing public safety information with the public via Twitter."
Police defended their tactics in another press release on Sunday afternoon, acknowledging they were aware of some "violence" and "property destruction," requesting public help in identifying the victims and perpetrators.
Everyone is on their own. Stay prepared.