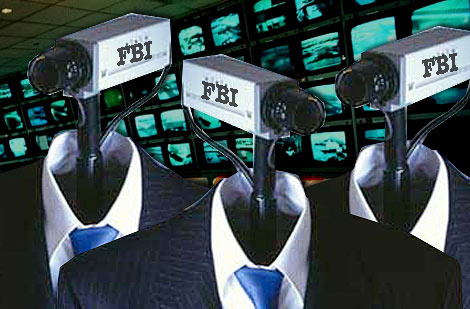 This article was written by Claire Bernish and originally published at The Free Thought Project.
Editor's Comment: The whole situation is whipped up hysteria on all sides; if they set the economic tilt of the tables right, the tension and pressure would all quickly diffuse. If the roaming war machine in the middle east would back off or slow down, it would exponentially curb the hatred and violence from radicals and terrorists "over there." As Ron Paul and many others have long argued, it is the deliberate continuation of blowback. The same is true with the migrant crisis… if the elites didn't want a flood of unstable refugee people from an incompatible culture, why did they push so hard for war there – that is specifically what is driving the entire crisis into Europe and America alike. But they have shamefully done it on purpose and by design to destabilize and drive a wedge between ideological segments of the population.
Who exactly does the FBI work for? It has been so busy targeting Americans and placing mass surveillance across population centers that they have failed to protect America's borders from potentially threatening aliens, etc. Extremists among the conservatives on the right, or the patriot community, or the angry left have all been driven to extremes at times. But in the last cycle, the media frenzy has been guided towards pinpoint accuracy in its use as a weapon to divide and conquer people, to stir up rage and distrust between people, and to fish for headlines and further justifications for power.
Shock Report: FBI Arresting Far More Americans Targeting Muslims, Than Muslims Targeting Americans
by Claire Bernish
As President Trump and supporters continue the push to levy an arbitrary travel ban from a smattering of predominantly Muslim countries, a debate rages in the United States about the validity — and effectiveness — of preventing terrorism by strangling immigration.
Now, simple data can put that debate to rest.
"Since January 2015, the FBI has also arrested more anti-immigrant American citizens plotting violent attacks on Muslims within the U.S. than it has refugees, or former refugees, from any banned country," writes Nora Ellingsen for Lawfare.
Ellingsen would know, too, after having worked for the Federal Bureau of Investigation's Counterterrorism Division for five years, she left for Harvard Law School — but has tracked statistics closely for Lawfare since. And Ellingsen remains cagey to unreported information — she knows what is likely taking place behind the scenes, even when it either isn't or hasn't been disclosed to the public.
In a recent article titled, "It's Not Foreigners Who are Plotting Here: What the Data Really Show," Ellingsen explains,
"The Program on Extremism at George Washington University has routinely published statistics indicating that the 'vast majority' of individuals charged in the U.S. with offenses related to ISIL are U.S. citizens. When considering all terrorism offenses, that claim holds up—80 of the 97 suspects arrested in the past two years, or more than 82 percent, are American citizens.
"Most of those, notably, are not naturalized citizens. Of the U.S. citizens, only six were naturalized. In other words, more than 76 percent of individuals arrested by the FBI over the past two years for terrorism-related offenses were U.S. citizens as a result of having been born in the United States."
Americans present a far greater threat to Americans than immigrants from Iran, Iraq, Syria, Sudan, Libya, Yemen, or Somalia — the named countries in Trump's disputatious ban.
But even naturalized U.S. citizens haven't committed or plotted to commit acts of terrorism on American soil. According to the aforementioned statistics, two of six naturalized citizens emigrated from Bosnia, which didn't make the list — nor did Israel, staunch U.S. government policy driver, and original home of the third naturalized citizen, who had been convicted on charges of terrorism previously.
"Nihad Rosic and Mediha Medy Salkicevic," Ellingsen continues, "emigrated to the U.S. from Bosnia, a country not on Trump's list. While in the United States, the government alleges that Rosic and Salkicevic raised and sent money to individuals fighting with ISIL in Syria and Iraq. Both men contributed money from their personal savings, while other members of the conspiracy sent supplies including tactical gear. At one point, Rosic attempted to leave the country to join ISIL as a fighter overseas. Neither subject plotted an attack in the United States.
"Another naturalized citizen, Rasmieh Yousef Odeh came to the United States from Israel—a country that's really not on Trump's list. Odeh's case is unique; she was charged with immigration violations for failing to disclose a previous terrorism conviction in Israel. Now 68 years old, Odeh was convicted in Israel for her role in the 1969 bombings of a supermarket and the British Consulate in Jerusalem, which were carried out on behalf of the Popular Front for the Liberation of Palestine (PFLP.) In the past two years, Odeh is the only convicted terrorist to slip through the cracks and immigrate to the United States. However, the indictment makes no charges that she was engaged in any sort of terrorist activity while living in the Chicago area."
Here's where the statistics get really interesting. While the remaining three naturalized citizens did, indeed, emigrate from nations Trump takes issue with, but not for anything pertaining to his ostensible terrorism concerns.
Two men — one from Iraq, the other, Syria — "were not charged with material support to terrorism, but with making false statements to law enforcement," and "nothing in the public court documents suggests that either subject engaged in attack plotting in the United States."
Exactly one naturalized citizen from the travel blacklist engaged in activity related to terrorism, as Ellingsen explains,
"Of the six naturalized citizens on our list, there is exactly one from a newly banned country who was charged with material support to terrorism. Abdirahman Sheik Mohamud emigrated to the U.S. from Somalia. In April 2014, Mohamud traveled from Ohio to Istanbul and onward to Syria, where he received weapons and explosives training. In June 2014, Mohamud returned to the U.S., where he told an acquaintance that he wanted to attack a military facility or a prison, killing U.S. military members."
So, if perpetually-paranoid Americans aren't threatened by immigrants from the apparently Sinful Seven countries, who should they fear?
Techdirt turned to an article from Slate, which explains the 'real terrorists' truly are closer to home than nervous, law-abiding Americans might think.
"Our politicians say they'll stop these killers. They talk about building walls and vetting refugees. If we were serious, we would do it. We would seal our borders against North Carolina," Slate's William Saletan implored.
"North Carolina? It sounds absurd. When we think about immigration and terrorism, we think of Syria. But that's not where our casualties are coming from. On Friday, a gunman killed three people and wounded nine more at a Planned Parenthood clinic in Colorado. The suspect is white American Robert Lewis Dear. When police apprehended Dear, he uttered one telltale phrase: 'no more baby parts.' People who have known or met Dear say he wasn't a regular churchgoer. But they also report that he believed devoutly in the Bible and that he claimed to have read it 'cover to cover.' In an online forum, Dear apparently spoke of Jesus and the 'end times.' He painted or posted crosses on at least three of his homes.
"Dear moved to Colorado last year from North Carolina, where he had been living. For two decades, the Tar Heel State has been a hotbed of religious extremism, fueled by clerics who preach holy war. The result is a stream of interstate terrorism."
Saletan, of course, speaks tongue-in-cheek, yet keenly encapsulates — through a list of domestic terror attacks carried out by North and South Carolinians — how immigration restrictions of any variety serve only to placate xenophobes.
After all, Saudi Arabia didn't make the list; Israel didn't make the list; Afghanistan didn't make the list.
Terrorism doesn't practice one religion, or have a single nationality. It doesn't have a specific appearance, gender, motivation, cause, or mindset.
You can't fight terrorism by ignoring facts — and the fact is, we have our own terrorists. No matter how constrictive the restrictions on our borders get — even if Trump shut down immigration, entirely — the United States creates terrorists at home and abroad at an alarming rate.
A closed border won't change that. Indeed, the only way to lessen the chances a terrorist will attack on U.S. soil is for the U.S. to rein in belligerent, imperialist foreign policy, bring the military home, and use its bloated budget to begin patching the physical and emotional holes in this country.
Banning legal immigrants only deepens those wounds.
This article was written by Claire Bernish and originally published at The Free Thought Project.