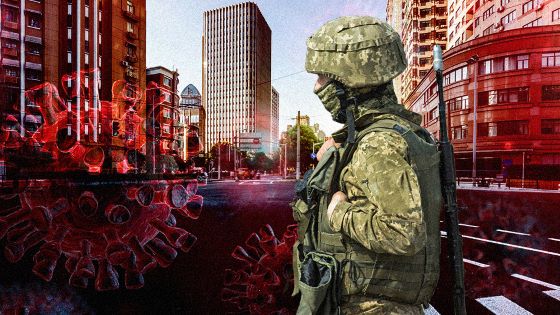 Military personnel outnumber civilian scientists in the United States government's Operation Warp Speed vaccine program. With the military so heavily involved in the distribution of this vaccine, is it any surprise that most Americans don't want anything to do with it?
An organizational chart obtained by Stat shows, raising concerns about whether military officials are qualified to lead the massive public health campaign. The military is used for war. Rolling it out to distribute a rushed vaccine signals one thing to the public if you're brave enough to admit it: this vaccine distribution is a war on the public perpetrated by the government. Wake up.
Trump: "The Military Is Ready To Deliver A Vaccine"
This vaccine won't be voluntary by any sense of the word.  You don't have to take it, but if you don't, you won't be able to eat, buy food, pay rent, or leave your house that will be taken from you if you cannot pay the mortgage because you refuse the vaccine. That doesn't sound like anyone will have much of a choice.
This vaccine could be ready before the election, however, it may not be. Political chaos surrounding the elections is all a part of this vaccine agenda.  The goal is to have everyone tracked, traced, monitored, and under authoritarian control. The goal is the New World Order.
The Health and Human Service's $300 million "pandemic-related" ad campaign (propaganda rollout) touched off an outcry, and rightfully so, after Politico reported leaked details. Among the concerns were its funding sources: Food and Drug Administration contributed $15 million for pre-campaign work, while most of the program's $300 million budget was requisitioned from the Center for Disease Control and Prevention funds appropriated by Congress, Politico revealed.
Additionally, the Ohio national guard has been called upon to help provide "security" for the presidential debates. Around 300 members will be sent to the city to "ensure a safe and secure environment for those attending Tuesday's presidential debate in Cleveland."
The military will be increasingly used in the coming months and it's rollout will be seen as a way to provide peace and safety. Please remain vigilant and prepared. Stay alert and know all the possibilities of what could be coming, as it'll give you an idea of the additional preps that will be needed. As of right now, refuse to live in fear, and make sure you can defend yourself and your family, especially if you intend to deny the vaccine.
Changes are coming, so prepare and stay alert.