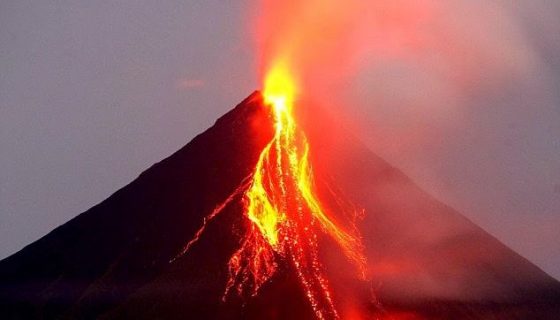 The Philippines most active volcano, Mount Mayon, has been rumbling for days.  Because of the volcano's ongoing activity, the alert level has been raised to 4 and the danger zone around Mayon is now 5 miles in diameter.
A recent explosion has taken place at the volcano in the Philippines as well, sending a huge plume of ash and steam into the sky. Authorities have since raised the alert level to four out of five, meaning a potentially deadly major eruption is possible within days.  The Philippine Institute of Volcanology and Seismology (Phivolcs) raised its alert on Mayon to level 4, signifying a hazardous eruption is imminent, from level 3, which warns that such an eruption could be "weeks or even days" away. "We strongly advise all people, both residents, and tourists, to avoid the danger zone, and airlines to avoid flying near the volcano summit," agency chief Renato Solidum said in a public news conference.
PHIVOLCS reported "increased seismic unrest, lava fountaining, and summit explosions" in the area and Solidum warned of two possible scenarios in the press conference on Monday: continuous lava eruptions, or a more dangerous pyroclastic flow.  (A pyroclastic flow is a mix of hot lava blocks, pumice, ash, and volcanic gas that moves at high speed down the slope of a volcano while typically following valleys, according to the United States Geological Survey.)
Solidum said this eruption was a possible "smaller version [of the] 2001 eruption," which had pyroclastic flow. Solidum said the agency had recorded increased seismic activity and "lava fountaining and a summit explosion" from Sunday night, indicating more explosions could be ahead, including a hazardous eruption. A level 5 would signify that a violent and possible deadly eruption is underway.
Mayon, which at 2,462 meters (8,077 ft) is also one of the tallest mountains in the country. It has been issuing lava and pyroclastic material since it started showing activity and a red-hot glowing core back on January 13. About 40,000 residents living near Mayon have been evacuated. Authorities have also closed schools and encouraged those in the outskirts of Mayon's danger zone to stay indoors.
Mayon lies in the central province of Albany.  "In some areas…it's already zero visibility, especially along the foot of the volcano," governor Al Francis Bichara told CNN Philippines, adding that strong winds could carry ash to distant towns. "The public is reminded to observe the danger zone — not to panic, but in essence just be ready. Prepare either gas masks, handkerchiefs or clothes to prevent inhalation of fine ash," said Solidum.
https://www.facebook.com/alfrancis.bichara/posts/1799058503460807
"This kind of eruption is not over yet. Just like what we experienced a long time ago, it might extend up to a month," said Bichara. "Maybe tomorrow, there will no eruption, and the following day there will be [one]."