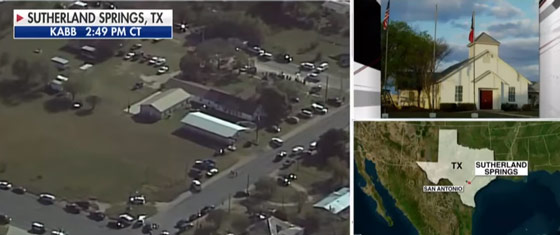 At least 26 people have been killed after an armed individual entered a church and opened fire just outside of San Antonio, Texas Sunday morning.
Details are still emerging, but police say the suspect was killed in a shootout following the incident.
According to witnesses, the shooter, who was dressed in full combat gear, stopped shooting only to reload.
The shooting happened at the First Baptist Church of Sutherland Springs, where around 50 people usually attend service, according to local reports.

Wilson County Commissioner Albert Gamez Jr told CNN that at least 27 people have been killed in the shooting, but the death toll is expected to climb.

'My heart is broken,' Gamez said. 'We never think where it can happen, and it does happen. It doesn't matter where you're at. In a small community, real quiet and everything, and look at this, what can happen.'
It is unclear who the shooter was, but reports suggest he may be a relative of the First Baptist Church pastor:
The shooter in Texas is a relative of the Pastor Frank Pomeroy. #Texas #SanAntonioshooting #SanAntonio #Trump #MAGA #shooting #Texas #Church pic.twitter.com/dKk77XT2g6

— Country Girl (@GirlDayTrader) November 5, 2017
"Practically Everybody In That Church Was Either Killed Or Wounded"