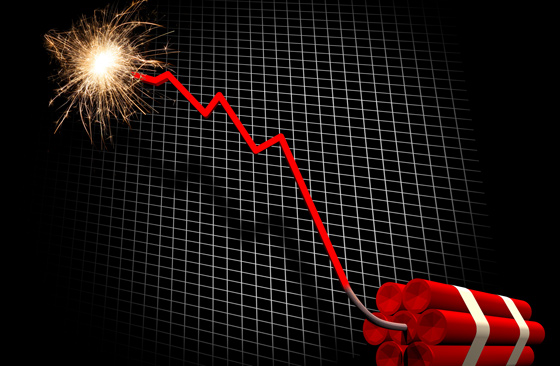 Stock and bond markets may be teetering on the edge of a widespread crash following a stellar year that has seen all-time highs across just about every major asset class. Earlier today Zero Hedge reported that Bloomberg market commentator Mark Cudmore says markets could be in for a violent downside break in the weeks ahead.
It's a sentiment also shared by Traders Choice analyst Greg Mannarino, who up until this point has been generally bullish on short-term market movements. On Thursday, however, Mannarino reports that bond buying, which has been used to prop up stocks through massive cash injections in recent weeks and months, failed to keep stocks from falling.
This, says Mannarino, is a major red flag that could signal a reversal going forward:
If there's one thing that you need to pay attention to it's this… savage bond buying occurred today in an attempt to re-prop up the stock market and it didn't work…

They're trying to play a game here and it's been working time and time again…

Without fail every single time… except for today… that has worked.

…

I am not sounding the alarm saying 'this is it… this is the market crash.' What I am saying is that you need to exercise caution right here… there's a divergence going on and when you see divergences like this your eyes should open up… maybe it's time to pull profits… maybe it's time to hedge positions…

…

If we continue to see this action… the one thing we need to watch for is a simultaneous sell-off which will occur in the bond market and the stock market at the same time… when these things start to fall in tandem get out of the market…

They are buying bonds here at a feverish pace… and it failed to prop up stocks… that to me is a red flag.
Earlier this year Brandon Smith of Alt Market warned that the data points show an economy in severe deterioration:
Corporate earnings expectations continue their dismal path, suggesting that stock markets have been supported by central bank stimulus and blind investor faith in central bank intervention. The stimulus is now being cut off. How long before investor faith is finally lost?

These are only a few of the MANY data points that paint a very ugly picture for the US economy. The rest of the world is just as tenuous if not worse.

…

The question is not "when" we will enter collapse; we are already in the midst of an economic collapse. The real question is, when will the uneducated and the biased finally notice?
It shouldn't be long now.