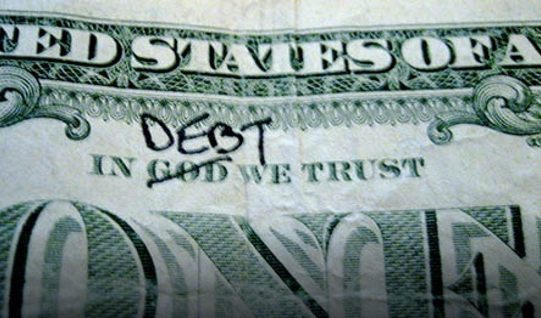 The mainstream media has been ignoring the problem of corporate debt in the United States.  While it's often not thought of, corporate debt can pose a huge problem to the overall economy and lowering interest rates to make borrowing money cheaper won't solve the crisis.
And low rates won't solve the coming corporate debt crisis – it will just sustain the number of zombie companies for longer, putting off the reckoning till later, when it will be so much larger. Zombie companies block market niches, kept solvent when economic Darwinism says they should wither and die, opening their market niche to more nimbler new entrants. –Blain's Morning Porridge, submitted by Bill Blain of Shard Capital, via ZeroHedge
So far, the market consensus is that the Fed will eventually ease lower interest rates. But that won't ease the pain the economy will feel from the corporate debt that's at unsustainable levels.  It's how in how the Fed communicates or hints at timing tomorrow that will be most closely analyzed aspect. Expect pages of dot-plot analysis and explanations of whatever he said and meant. Federal Reserve chairman Jerome Powell has already made it crystal clear that the Fed is willing to act to offset slower growth and counter a trade war; "we will act as appropriate to sustain the expansion."
In a speech delivered on May 20, Powell sounded the alarm about rising levels of business debt, although he dismissed comparisons between the current situation and the conditions in U.S. mortgage markets before the financial crisis.
The swelling corporate debt is definitely bubbling up and could be the catalyst for a global economic meltdown. In fact, U.S. corporations are now more indebted than they were before the Great Recession of a decade ago.  That means their demise will be all the more dramatic.
Views about the risks from rising corporate borrowing "range from 'This is a return to the subprime-mortgage crisis' to 'Nothing to worry about here,'" Powell said. "At the moment, the truth is likely somewhere in the middle," he added.
"The US corporate credit cycle appears to be at its highest point in recent history," the International Monetary Fund said in its "Global Financial Stability Report," released in April. The indicators show corporate debt is skewed toward lower-rated issuers, with leverage being close to cycle highs.
An extended period of easy credit has led to loose lending and investment standards, allowing even companies on a shaky financial footing to pile on debt.
The bastion of authoritarian control on the economy, the International Monetary Fund, has even warned about the problem of mounting corporate debt. 

The IMF has also recently warned governments to reign in their debt before an economic meltdown, as it's the only chance the world bank and governments have to survive and remain relevant. Because of this, we should all be taking a long hard look at our own financial situation and see where we can make the cuts necessary to begin the epic task of eliminating liabilities, aka, paying off debt. –SHTFPlan
The general public often glazes over corporate and government debt, while focusing on racking up their own. In a normal economy, led by a free market system, this would be less of a concern.  But we have anything but a free and healthy economy. In fact, ours is on life support being propped up only by the central banks, fiat currency, and their unwillingness to pull the plug…just yet…