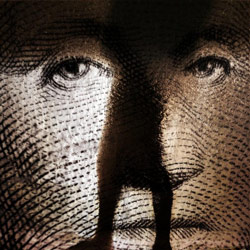 This article was written by Tyler Durden and originally published at Zero Hedge.
Editor's Comment: Say what you will. The character in this story admitted his foolish mistakes. But there is a predatory system in place, and its operation goes to the very top. Stupid people and bad consumers are absolutely getting eaten alive, and a pound of flesh is once again demanded from all the rest.

As SHTF has noted many times before, the debt crisis is going to absolutely map the landscape. Impossible fines and fees, and terms that the illiterate and inexperienced average Americans are being signed onto amount to a modern day siege of slavery.
Through financial enslavement, individuals – regardless of background – are being held back. They are stunted, and deprived of the opportunity to ever be truly free and working towards their own ends. Many are once again being literally jailed in modern debtor's prisons.  Though escape may be theoretically possible, many people are falling into a trap from which there is seemingly no escape. It is indeed a vicious cycle.  Welcome to the age of neofeudalism.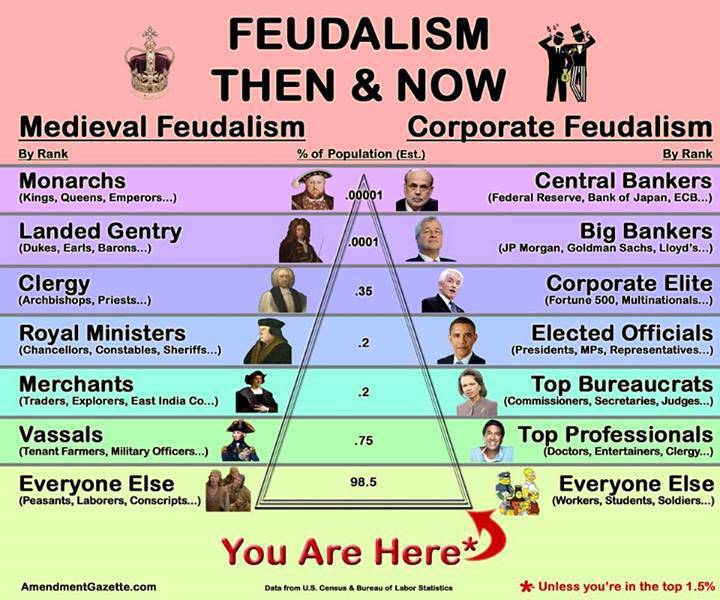 —————
"I'm Considering Filing Bankruptcy" – St. Louis Proves A Harbinger Of Things To Come For Subprime Auto Lending
by Tyler Durden
"Subprime lending is a calculated risk – we know that some of the customers won't pay, we just don't know which at the time the loan is made. With higher default rates come higher expenses, and higher interest rates are necessitated to remain solvent." That's a quote made in a statement by Midwest Acceptance corporation, who specializes in high interest car loans for subprime borrowers in the St. Louis area.
Stories like the one involving William Lesinski are becoming all too common in the St. Louis region. Lesinski's story begins with taking out a ridiculously high interest rate loan for a car to be given as a graduation present for his son, and ends with his wages being garnished – beyond the amount of the court judgement.
Wanting to buy his son a car as a high school graduation gift, Lesinski put $1,750 down and drove off the lot in a 2003 Ford Mustang. The loan for the car was $11,367, and it carried 29 percent annual interest over nearly four years. His son would make the payments, but the loan was in Lesinski's name.

After paying the balance down to a little more than $10,000, his son, who had stopped making insurance payments, wrecked the car, Lesinski said. In 2011, after more than $4,000 in interest had accrued, Car Credit City's in-house finance arm, General Credit Acceptance, sued Lesinski. Factoring in attorney fees, the court judgment came to more than $15,000.

After Lesinski fell behind on a payment plan later that year, General Credit Acceptance began garnishing a portion of his check from a Fenton painting company. It hasn't stopped since.

As of Friday, the company has taken $22,600 of Lesinski's wages. Because Missouri court judgments can carry the interest from the initial contract, little of that money has gone toward principal. Lesinski assumed the balance was near zero. In fact, he still owes almost $13,000.
In order to get a better understanding of the subprime auto lending activity in the region, the St. Louis Post-Dispatch analyzed court data from suits involving three area auto finance companies. Since 2010, those firms alone have filed more than 15,300 lawsuits against borrowers in local courts, and the vast majority of cases resulted in a judgement against the defendant, after which the lender often sought to garnish wages from the borrower.
The Post-Dispatch found that contracts involved in the suits typically have an interest rate between 24% and 29.75% over terms ranging from three to five years. The Post-Dispatch followed up with interviews of borrowers, many of whom had rates of nearly 30%. Some said they knew the interest was high, but signed papers because they couldn't get to work without a car. Others said they didn't understand the terms until they fell behind.
"I wasn't very good on paperwork" said Lesinski – that's an understatement.
Although Lesinski isn't alone in claiming ignorance…
"My clients aren't sophisticated enough to know that they should negotiate the price or interest rate. They just think this is the interest rate they deserve. They think they deserve a 30 percent interest on a car loan." said Rob Swearingen, an attorney who represents borrowers being sued by subprime lenders. "This is the way people get poor or stay poor in this country. This is the biggest purchase most low-income consumers will ever make. They don't buy houses. They buy cars. And if they get ripped off at a young age, you get a judgement against you, and you start off behind the eight ball immediately." Swearingen added.
Acording to the National Alliance of Buy Here Pay Here Dealers, those that focused on buyers with poor credit histories had a default rate of 31% in 2014. But even in that niche, loans carrying a 29% interest rate are too high said Ken Shilson, who heads the group. "When you load that kind of interest on a car they can't afford anyway, it's destined to fail. If you set someone up to fail, they're going to fail on their own. They don't need any extra help." Shilson said.
According to research firm Experian Automotive, the average subprime borrower received interest rates ranging from 15.3% to 18.5%.
Because many people sued over debts don't show up in court, debt collection dockets are often a parade of default judgements against borrowers. For those that do go to court, many were put on payment plans through consent judgements, but when they fall behind, the contract interest and the original unpaid balance applied, and lenders frequently resort to garnishing wages at that point.
Christopher McGraugh, now a family court judge has presided over countless debt collection suits and says that "In many of these instances, you can never get out from underneath these judgements because the interest rates are so high."
Cerissa Robinson said she is considering filing for bankrupcy in order to get out from underneath a mountain of debt. Robinson took out a 26.75% interest loan, and yet another to cover the down payment, which had an interest rate of 62%. Cerissa lost a job and had to take one at lower pay – "I'm considering filing bankruptcy"
David Chapnick, president of Modern Finance said that he makes extensive efforts to contact borrowers before resorting to lawsuits: "I don't want to sue anybody, but I've got to pay postage. I'm paying rent. I've got to run a business here."
At the end of the day, Lesinski says "Maybe I wasn't very smart. Shame on me. But damn, shame on them."
* * *
As we have pointed out numerous times, student loans and auto loans are the next two credit bubbles waiting to erupt and cause chaos in the markets, and St. Louis is a harbinger of what is to come.
While we don't condone taking advantage of anyone's situation, we are stunned to see these decisions be downplayed by individuals as just chalking it up to "I wasn't very good at paperwork" and lawyers telling everyone that clients aren't "sophisticated enough".
Then again, the fact that Bernie Sanders receives a large portion of his campaign funds from the government, we shouldn't be surprised at all.
This article was written by Tyler Durden and originally published at Zero Hedge.