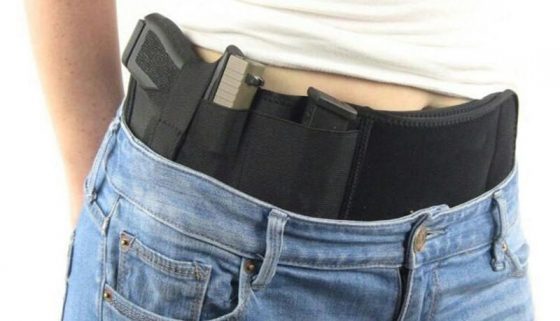 The House Judiciary Committee voted 19-11 late Wednesday for the Concealed Carry Reciprocity Act of 2017. This bill would amend the federal criminal code to allow the concealed carry of guns across state lines for all concealed carry permit holders.
Should this bill become a law, states will not be able to impose their individual requirements for a concealed carry license on those who have a license to conceal in a different state. The left is already terrified.
Republicans rejected Democratic amendments that would ban violent offenders from qualifying under the law (because violent offenders cannot obtain a concealed carry permit anyway), as well as a change that would have prevented forum shopping; which means a New York resident barred from obtaining a concealed carry permit could instead send away for one from somewhere else. The bill, which has more than 200 co-sponsors, almost all Republicans, will now head to the floor of the 435-member House. A similar bill, with 38 Republican co-sponsors, is pending before the Senate Judiciary Committee.
All this bill does is extend the right to carry a concealed firearm IF one is licensed to do so in all 50 states, regardless of the state that issued the license.  There isn't really a reason for liberals to freak out, yet they are.
A qualified individual must: (1) be eligible to possess, transport, or receive a firearm under federal law; (2) carry a valid photo identification document; and (3) carry a valid concealed carry permit issued by, or be eligible to carry a concealed firearm in, his or her state of residence. – H.R. 38
"This would end abuses in anti-gun states like New York and New Jersey and allow law-abiding concealed carriers to exercise their rights nationwide with peace of mind," the NRA website states. "[The bill] would not, as some critics claim, affect how states issue their own concealed carry permits."
U.S. Representative Richard Hudson, the North Carolina Republican who introduced the legislation, called the bill "welcome progress" in efforts to expand and protect access to firearms. 
The few states that target law-abiding concealed carriers from other jurisdictions for criminal prosecution consider the bearing of arms in public for self-defense a privilege reserved for the elite, rather than a constitutional right. When states trample on constitutional rights, Congress has the authority and responsibility to act.  –NRA-ILA
This is a small shred of hope for gun owners who seek to exercise their rights regardless of whether or not they cross an arbitrary line.