SHTFplan Editor's Note: Our friend Selco at SHTF School is no stranger to the realities of war. Having spent a year in the middle of a conflict that indiscriminately took the lives of thousands of innocent men, women, and children in the Balkan War during the 1990′ he is able to share a first-hand account of what the world as you know it may look like should it all collapse. Most of us theorize how such events may play out, but none of us is really prepared for them. Living in relative peace and prosperity most of our lives, the majority of Americans would find it almost impossible to even imagine what you are about to see and read.
As disturbing as the following video and commentary is, it is something you need to be familiar with now, so that you can prepare your mind, body and spirit for the absolute horrors that you will witness right before your very eyes should the worst happen. 
The following is a necessary, yet brutal, commentary and imagery. It provides some key insights into what we may well face in the future. A destabilization of life as we have come to know it is no game, no laughing matter, and not something that should be taken lightly.
As Selco so succinctly noted in a previous article, " if I had to be an animal, I was an animal." 
It's about survival. That's it.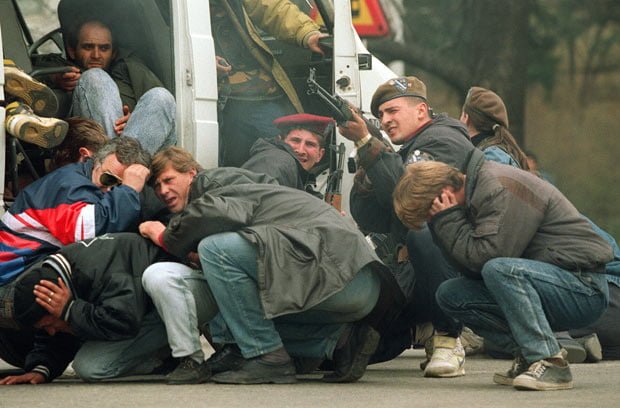 (Pictured: Snipers take aim at civilians in Sarajevo during the Balkan War. Circa 1992)
*The following video contains extremely graphic imagery*
*Viewer discretion is advised*
---
We are at an interesting point in time. It might be a point that changes human history if some of those who rule us (sorry to call it like that but that is the situation right now) play their game and it escalates. I'm happy to know most of you have already prepared the proper storage and skills to try your best when the storm hits. Let's hope we don't ever need anything from this.
If you have time, stop eating (but maybe get drink) and spend half an hour watching the video below. It is just out since 4th of September 2013 but shows some older video footage of people fighting for their survival in Syria's current conflict. It's bloody and may be disturbing for some, so may be don't eat. I speak a lot about how I moved through city and fought in my survival course and see many similarities. Too many, so I had to take some breaks looking at this. Anyway, I have comments about this video below.
[Selco Note: "Be aware that this video is clearly pro rebel propaganda. I do not take sides and have this video here for the urban survival and fighting in it."]
3:33 and 11:29 You can expect whole kind of injuries, and being kid does not protect you at all. Both injuries looked horrible, but kid with the bloody head probably just lost part of his scalp, so it is good for him. Nature of fighting in crowded space is brutal. There is no discrimination with explosives and if opposing force thinks of you and your family and friends as nothing more than animal then everyone is target. Look for small parts of shrapnel, they can penetrate deep and go unnoticed.
7:33 SHTF in your city is something like slow process of accepting the fact that everything around you is going to hell. I remember watching my city burning years ago, it looked like magic, big fires in city without electric lights, later I was looking how places that I knew for years disappeared from the face of the earth, and from my memory too. And some time later I learned too not to give a damn for places disappearing around me, because I learned that people disappeared (got killed) too, so it became my bigger goal to stay alive. If things get to this point, prepare to be in free fall with everything (and everyone) around you changing and turning ugly.
11:55 Guy with the bad dreams did see only small part of his bad dreams. He is under the pressure, doing some hard job and his every moment is filled with tension. Later, years later bad dreams gonna haunt him, when he goes back to "normal life". Actually he is gonna figure that there is no normal life for him anymore. Sorry man, world becomes different place.
12:24 City moving during the fighting is some other moving then you use to. It means that you need to "draw" some other map. Move through the ruined buildings, holes in walls etc. Moving trough the normal ways is usually way to dangerous.
13:48 "We have enough shown to the people. Do something ." I have been there, only this dude has opportunity to say this to someones camera. I was asking myself for days "is it possible that no one is seeing that people are getting killed, children are dying, and that people are starving." Later I figured that mostly people do not care for that, because of many reasons, and I figured too that there are no sides, only people suffering, dying,fighting, surviving… I talk more about this after comments here.
16:56 Guy throwing the "home made" bomb, usually made from the unexploded stuff, while his buddy is taking cover few meter behind opening without revealing himself. Basics of urban street combat. Shooting is done from small openings or with just your hands raising (with rifle) above some cover and spraying. Progress is made when civilians learn to fight. They speak about how warfare changed from spraying and random shooting to snipers and IED's in this video.
19:41 Does this guy look like he knows what he is doing? No, he is not so familiar with the weapon. SHTF also means lot of guys with weapons, and many of them do not know how to use them too, some of them seeing it for a first time probably. And shooting does not mean that you're gonna hit something always, there is also other reasons for shooting, so it is good idea to have huge amount of ammunition. When you go out with group for first couple of times… stay away from them. Friendly fire is real and I saw people get taken down by friends and family or shooting themselves.
26:41 That is the picture how most of the cities gonna look when SHTF, it shows some of the streets, and you can say that it is war there, and it is not gonna look like that in "my SHTF case". But still you need to consider that in any disaster and survival scenario for whatever reason, with time and lack of the city services, violence and ruins because of fight for resources, it is pretty much similar. Consider this when you are taking some advice and plans for moving through the city during survival scenario. "Smart" advice like "usage of skateboard for moving trough the SHTF city" just does not make sense.
I feel like I describe something that can not be described, but the video helps one to imagine. Imagine how things can go bad and grim and then add more to it.
Another survival lesson that can be learned
Do you see how long this conflict in Syria going on? People are getting killed, dying, starving, no proper medical care, no common services etc. Does that look somehow irregular to you in some way?
I hope not. Look at the situation in Syria and yes there is some help coming from other countries but many people survive. That you are lone survivor 3 months after SHTF is another myth in the "survival scene".
People will die in huge numbers, but also it will be crowded with lots of bloody fights for resources. People have ability to adapt, so we all can eat food with worms, learn how to shoot and kill, live without showers etc. People will die yes, in many ways, but not as fast and not as easy as many may imagine.
It is gonna be fight for survival and everyone is invited.
Who will go first?
Not necessarily the weakest ones in terms of strength. Expect to see the first casualties among the people who are the most dependent on society and have very poor ability to adapt.
So while a 70 year-old man surely looks like guy who is gonna die among the first ones, when you compare him to the young athletic looking teacher (or whatever), in reality that old guy might be able to adapt faster, because he comes from poor background and grew up in sort of the same survival scenario. That athletic looking dude may be lost because his strong faith in society and good human nature.
International intervention or not?
Personally I do not know enough about the situation on ground and the media reports are very different, so I can not say if helping rebels is good or not. If you are there and see this and experience it you want to help them, you can be sure about that. If you only see this from the distance it is different. Best thing really would be if everyone goes home, stops fighting and Assad leaves.
Not gonna happen.
Maybe now is not the time for US or international troops to get involved in this, but leaving mad dictators like Assad kill people? I think this is a situation where every way is wrong. Now it is just about finding which is not too wrong. No need for world war 3, no need for atrocities on civilians.
This is what I have to say about this. Share your thoughts and opinions on scenes in video and situation in Syria in comments.
You can follow Selco's story at SHTF School and learn how he survived one year in hell. 

More Excellent Reading From Selco:
If I Had to Be an Animal, I Was an Animal. It Was About Survival
A Survival Q & A: Living Through SHTF In the Middle of A War Zone
Advice From A Collapse Survivor: "RUN!" From Major Cities
The Reality of Combat: "Everything That You Have Prepared and Stored for SHTF Will Be Pushed to the Limit"