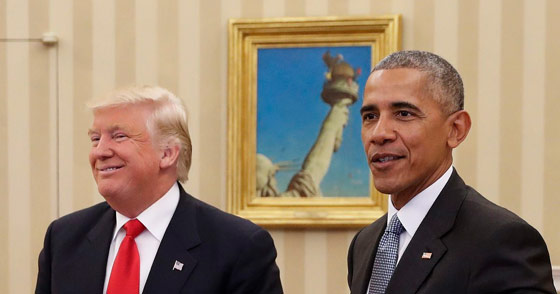 Obama has been a puppet president and a force of anti-American ideology, preferring to treat people as plebs and dependents, rather than as independent and proud individuals.
Never before in U.S. history has the political and social landscape been so sharply divided, and so much power titled towards the wealthiest few who pull strings and hold all the power.
At its root, the Obama administration was a lot of hype, a lot of pomp and circumstance for a cult of personality figure. Underneath it all, Barack Obama was little more than a front man for the bankers and war mongers.
A loss of civil liberties, mass surveillance programs, drones, war and health care reform are all part of his bleak legacy. Foreign policy continued the U.S. aggression, while giving rise to ISIS as a new terror front with geopolitical footing. Obama broke diplomatic relations, carried out regime change in the middle east and eastern europe, and conceded any gains made in Iraq, while failing to break off from Afghanistan, or even close Guantanamo Bay as he promised.
He covered for the collapse they created, and he created new opportunity – for those very same bankers.
No one was prosecuted, but instead nearly unlimited QE stimulus gave the banks easy credit. Joblessness and declining standards hit the American population hard, and the Obama administration hit back with a promotion to enroll Americans in SNAP and other welfare programs, with mandatory health care subsidized for the poor and taken from the pockets of the slightly-less poor middle class – who have been sucked dry and driven to the bottom like everyone else.
His assault on gun rights, his abuse of executive orders, his attempt to usher in immigration amnesty by fiat, his dramatic tirades over gun control and sensationalized shootings, his opaqueness with FOIA and other relevant government documents, and role in covering up Hillary's scandal are all dark marks on his so-called "legacy."
These factors, and many other disasters during President Barack Obama's eight years in office have made his reign a complete and utter failure – and much damage has been caused to the American people and their way of life.
Dan Dicks of Press for Truth says goodbye to President Obama in this touching video, explaining why Obama will head out "with a legacy of being the worst president in the history of the United States."
Whether or not President-elect Trump will play a significant role in turning that around, or not, remains to be seen.
Read more:
Shocker: Even Obama Lawyers Admit Birth Certificate Forged: "But Eligibility's A Separate Matter"
Report: "Distinct Possibility Obama Will Initiate Measures To Place Us Into A War With Russia"
Obama Admin Fines, "Forces Sheriff's Dept. To Hire" Illegal Immigrants
"We Will Soon Find Out What True Censorship Means" – Obama's Surrender Of Internet Control To Authoritarian Regimes Is Irreversible