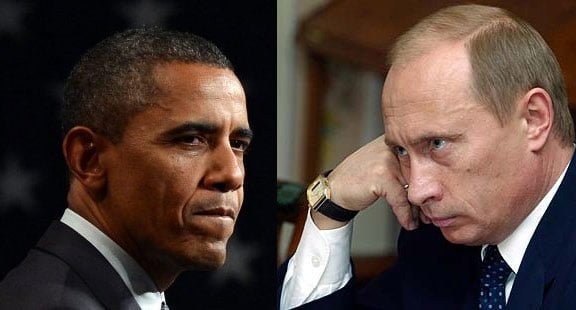 This article was written by Daisy Luther and originally published at DaisyLuther.com.
Editor's Comment: The attempts to sanction and shame Russia over alleged hacking activities are really nothing more than a desperate attempt by the establishment to hold onto power and make the system as it stands seem relevant.
Whether Trump represents a true substantial change from status quo policies or not, the deep state and military industrial complex powers that be aren't taking any chances. Instead, they'd prefer to escalate things to a crisis point in order to instigate a war footing, and other heightened crisis states where they are best poised to hold onto to power regardless of who is in office – or what the people want. Stay vigilant, and beware of the potential false flag events that could take us there before, or just after, Trump takes office.
Washington Warmongers Make 11th Hour Attempt To Start a War With Russia
by Daisy Luther
In the final days of Barack Obama's presidency, the warmongers in Washington, DC are hell-bent on causing as much chaos as possible. If they don't manage to start a war with Russia before Donald Trump is sworn in, it won't be for lack of trying.
The Military Industrial Complex stands to profit by billions of dollars if this comes to fruition. War is very profitable for politicians and their corporate cronies, but for the rest of us, it would inflict a heavy toll. (If you haven't read it yet, I strongly recommend picking up a copy of the anti-war classic, War Is a Racket by General Smedley Butler.)
Today, 35 Russian diplomats were expelled from the US for their alleged part in tampering with the election:
The US has expelled 35 Russian diplomats as punishment for alleged interference into the presidential election.

It will also close two Russian compounds used for intelligence-gathering, in Maryland and New York, as part of a raft of retaliatory measures.

President Barack Obama had vowed action against Russia amid US accusations it directed hacks against the Democratic party and Hillary Clinton's campaign.

Russia has denied any involvement.

The US State Department declared the 35 Russian diplomats from the Washington DC embassy and the consulate in San Francisco "persona non grata", giving them and their families 72 hours to leave the US.

The Russian government is expected to respond in turn by expelling US diplomats.

Sanctions have also been announced against nine entities and individuals including the GRU and FSB Russian intelligence agencies.
Two Republicans, John McCain and Lindsey Graham, and a Democrat, Amy Klobuchar, all voiced their support for action to be taken against Russia for "meddling with the presidential election" in November. The three are currently stirring up trouble on a tour of NATO countries near Russia's western border.
McCain, Graham, and Klobuchar are claiming that there is support from 99% of both Republicans and Democrats for actions against Russia, and particularly against Vladimir Putin personally.
Speaking to CNN, Graham said:
"There are 100 United States senators. Amy Klobuchar is on this trip with us. She's a Democrat from Minnesota. I would say that 99 of us believe the Russians did this and we're going to do something about it," said Graham, who is planning a hearing with McCain on Russia's interference with US elections. "We're going to put sanctions together that hit Putin as an individual and his inner circle for interfering in our election, and they're doing it all over the world — not just in the United States."
The claims of Russian interference were brought forth by the CIA, but are unsubstantiated. The FBI rebuts the CIA's claim and says there is no evidence to support that Russia tinkered with the election. President-Elect Donald Trump called claims of Russian interference "ridiculous."
Russia will not take this lying down.
If the three members of Congress are successful in stirring up conflict, Russia has said they will take action against the US.
Russian foreign ministry spokeswoman Maria Zakharova responded in a statement: "If Washington really does take new hostile steps, they will be answered.

"Any action against Russian diplomatic missions in the US will immediately bounce back on US diplomats in Russia."(source)
The European Union still has sanctions in place against Russia for its 2014 annexation of the Crimea peninsula. Those sanctions target arms exporters, banks, and any individuals the EU blames for the invasion of Ukraine. According to the EU talking heads, the sanctions have exacted a hard economic toll on Russia, but the Russian government denies this emphatically.
The current crew in DC seems intent on creating as many problems as they can for President-Elect Trump to inherit.
Should we be worried about the Russians or our own government?
As an un-named source told the BBC:
 "These are the same people that said Saddam Hussein had weapons of mass destruction".
When Lindsey Graham accuses the Russians of interfering around the world, it sounds a bit like the pot calling the kettle black, don't you think?
The US government seems to believe that they have the right to step into any arena they choose and that the world at large must accept it. But at the same time, they lecture other nations and impose sanctions, even when there is no proof of wrong-doing.
You have to wonder what else is planned for the last 21 days before Trump takes office.
This article was written by Daisy Luther and originally published at DaisyLuther.com.