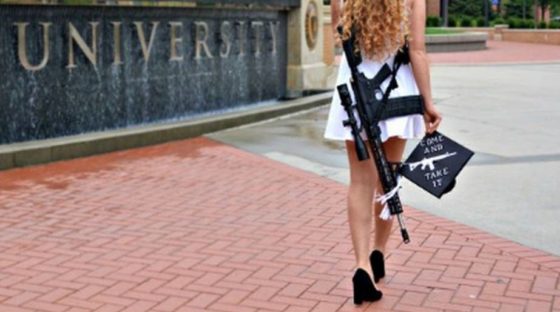 A Kent State graduate decided to stir up controversy with leftists by posing for a photo with an AR-10 rifle.  She completed the imagery with her graduation cap adorned with "come and take it."
The photo of Kaitlin Bennett has now gone viral.
Now that I graduated from @KentState, I can finally arm myself on campus. I should have been able to do so as a student- especially since 4 unarmed students were shot and killed by the government on this campus. #CampusCarryNow pic.twitter.com/a91fQH44cq

— Kaitlin Bennett (@KaitMarieox) May 13, 2018
Bennett's comment about "4 unarmed students" refers to the May 4, 1970, shooting of students during a Vietnam War protest. Members of the Ohio National Guard opened fire on the students exercising their human right to free speech and protest and killed four.  The Ohio National Guard also wounded nine others.  Horrifically, people now want censorship of everything and gun rights gone, so that people may do no more than beg in the face of tyranny and submit to their own slavery.
And even after all of the backlash Bennett received, she's standing by her statement that as a human being she should have the right to defend herself. 
I have no apologies for my graduation photos. As a woman, I refuse to be a victim & the second amendment ensures that I don't have to be. pic.twitter.com/5CKmQobrMb

— Kaitlin Bennett (@KaitMarieox) May 15, 2018
Bennet has not only received hate messages and been called every name one could imagine, her life has been threatened.  Does the left not realize that threats against someone's life are exactly why those of us who carry do so in the first place? Common sense is not a flower that grows in the left's garden.
Kent State's website said the university has rules forbidding students, faculty, and staff from carrying "deadly weapons." The university told Refinery29 that Bennett, now that she's a graduate and no longer a student, is within her rights to openly carry her rifle.
"Graduates are no longer considered students and would be permitted to open-carry, per the university policy," said Eric Mansfield, the school's executive director of media relations.
Bennett also took the liberty of notifying university police of her photo shoot ahead of time, Mansfield told the online publication, likely so she'd avoid confrontation with them. Gun owners are usually very aware of their surroundings and understand the state of the political climate being forced on us against our will.