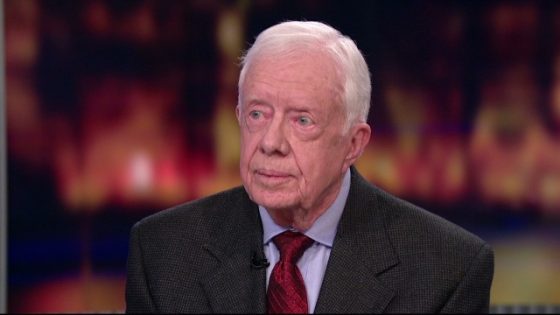 Former president Jimmy Carter has said that he doesn't think that the Russians stole the election from Hillary Clinton.  He also had some brutal criticisms of Barack Obama's foreign policy during a New York Times interview.
"I don't think there's any evidence that what the Russians did changed enough votes or any votes," Carter told The New York Times in an interview published on Saturday.
Carter was a one-term Democrat who also noted in the interview that he and former first lady Rosalynn Carter disagree on the matter.   "Rosie and I have a difference of opinion on that," he said. "They [the Russians] obviously did," the former first lady said.  But Donald Trump also disagreed with the former first lady in a Twitter post, saying that it was Facebook that was clearly on Hillary's side, not the Russians.
https://twitter.com/realDonaldTrump/status/921848853090983938?ref_src=twsrc%5Etfw&ref_url=http%3A%2F%2Fthehill.com%2Fblogs%2Fblog-briefing-room%2Fnews%2F356634-jimmy-carter-russians-didnt-steal-election-from-hillary-clinton
But Jimmy Carter's interview unveiled a few other interesting quotes as well. The comments from the former president and first lady, who say they voted for socialist Senator Bernie Sanders (I-Vt.) in the Democratic primary, come as the congressional and federal probes continue to investigate evidenceless ties between the Trump campaign and Russian election meddling.
What was a little ironic, to say the least, was that Rosalynn Carter was upset that the Russians may have stolen the election from Hillary Clinton, but failed to express the same outrage that Hillary and the DNC stole the primaries away from her choice, Bernie Sanders. That one obviously slipped by the mainstream media, but anyone with half a functioning brain can see the hypocrisy in that phony outrage.
Jimmy Carter also said he's eager to partner with Trump for a North Korea diplomatic mission. While his comments about his North Korea plan were brief, the former Democratic commander in chief addressed several topics, including the Trump-Putin relationship and his disappointment of Obama's work in the Middle East.
"I would go, yes," he said. Carter also said he has talked with Trump's national security adviser, Lt. Gen. H. R. McMaster, about his intentions but was given "a negative' response. "I told him that I was available if they ever need me," he reiterated. But Carter didn't stop there.  He criticized Barack Obama's foreign policy and blasted the media for their often overtly and harsh coverage of Donald Trump.
The former president said Obama "refused to talk to North Korea more" and lamented the US drone attacks in Yemen, according to Dowd. "He made some very wonderful statements, in my opinion, when he first got in office, and then he reneged on that," he said about Obama's action on the Middle East.