Last month President Obama made it a point to outline the ever stronger state of our Union.
"Our housing market is healing, our stock market is rebounding, and consumers, patients, and homeowners enjoy stronger protections than ever before," said Obama of a US economy that, according to the President's numbers, has added six  million new jobs over the last decade.
But as budget woes hit cities and states across America, and Congress battles with the White House over curtailing spending and a fiscal crisis, the real state of our union is becoming more apparent by the day.
According to benevolent billionaire politician Mayor Michael Bloomberg, spending is exactly what we need to keep doing.
Why?
Because we're the United States of America, and even if we owed our creditors an infinite amount of money, it'd be all good.
You see, the more we owe, the less likely they are to stop lending us money.
It makes perfect sense in a world where insanity is considered normal behavior.
While saying the federal deficit does indeed need to be curtailed, Mr. Bloomberg argued the United States could owe "an infinite amount of money" and there is no specific amount that would cause the country to default.

"We are spending money we don't have," Mr. Bloomberg explained.

It's not like your household. In your household, people are saying, 'Oh, you can't spend money you don't have.' That is true for your household because nobody is going to lend you an infinite amount of money.

When it comes to the United States federal government, people do seem willing to lend us an infinite amount of money. … Our debt is so big and so many people own it that it's preposterous to think that they would stop selling us more.

It's the old story: If you owe the bank $50,000, you got a problem. If you owe the bank $50 million, they got a problem.

And that's a problem for the lenders. They can't stop lending us more money.

Nevertheless, Mr. Bloomberg said it wouldn't be easy to find the spending cuts that do emerge. Accordingly, when Mr. Gambling suggested cutting "waste" could solve a significant portion of the deficit, Mr. Bloomberg flat-out disagreed.

"Listen, I've worked now in government for 11 years," he said. "One of the problems is the definition of 'waste.' You think the programs that I want are waste. And I think the problems that you want are waste.

It's not like somebody is taking wheelbarrows full of dollar bills and throwing them out the window.

It's a question of definition, what is 'waste' and what is not.

Source: Politicker
It's not like we're throwing dollar bills out the window.
Stupid Proles.
Why would we use wheelbarrows when we've got helicopters!?!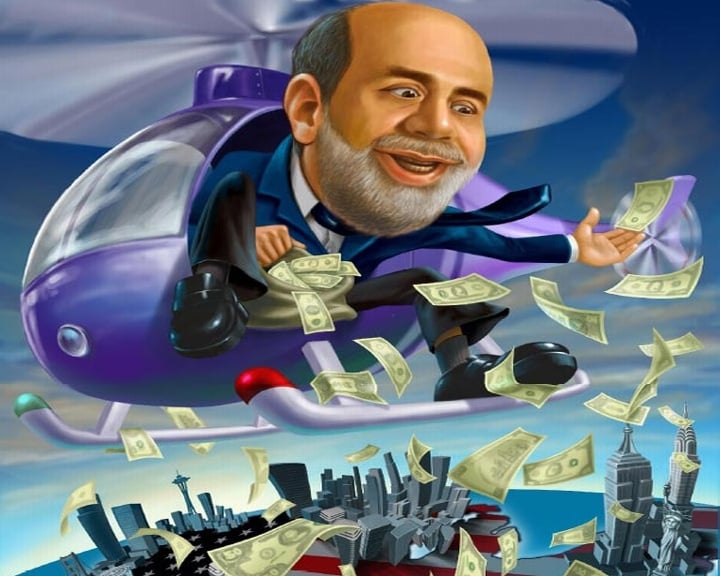 Meanwhile, in the real world, the economy is falling apart and the middle class is being destroyed.
Americans' personal spending and savings rates are very rapidly dwindling:
Personal income decreased $505.5 billion, or 3.6 percent, and disposable personal income (DPI) decreased $491.4 billion, or 4.0 percent, in January

…

The "savings rate" collapsed to 2.4% from 6.4% last month.

Collapse is the proper word here, folks.
That's a 62% decline month-over-month.
Wages with respect to price inflation for essential goods are going down, jobs are still disappearing, and the President's tax plan, which was not supposed to affect middle income and low income workers, is now coming into effect. The result is, less money left in your bank account at the end of every month.
As Mike Snyder notes at the Economic Collapse Blog, the signs that consumers are running out of money are everywhere:
These days most Americans are living from paycheck to paycheck, and thanks to rising prices and rising taxes, those paychecks are getting squeezed tighter and tighter.  Many families have had to cut back on unnecessary expenses, and some families no longer have any discretionary income at all.

…

According to one brand new survey, 24 percent of all Americans have more credit card debt than money in the bank.
The system is deteriorating.
Consumers, the drivers of our economy, are getting hammered at every turn. Higher prices for gas and food, more taxes, foreclosures, job losses, and emergency government safety nets that are unraveling are leaving wealth destruction in their wake.
From Main Street, it's looking like another financial and economic collapse is imminent.
What's the plan from the best and brightest of our politicians, economists and central bankers?
Two words: Infinite Borrowing.
It's gonna work, seriously! It's going to flippin' work!