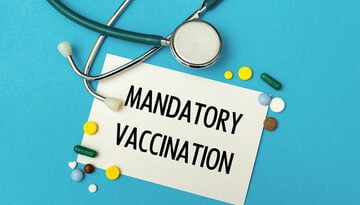 The Houston hospital that required its employees to take the experimental gene therapy shot has "paved the way" for others to do the same. Several employees sued Houston Methodist hospitals for mandating the "vaccine" but a federal judge dismissed the lawsuit which will embolden other employers to require this shot.
COVID-19 mRNA Shots Are Legally Not Vaccines
In his strongly-worded ruling, U.S. District Court Judge Lynn Hughes on Saturday knocked down arguments made in similar legal actions underway across the nation, limiting the likelihood that others will succeed.

Hughes discounted claims that the vaccine is experimental and dangerous. Unless they meet legal health or religious exemptions, the judge said that workers who refuse to get vaccinated, "will simply need to work somewhere else." –USA Today
Whether Hughes' ruling (note the word usage: ruling) will be the final word in Texas remains to be seen. The nurse leading the fight, Jennifer Bridges, has vowed to appeal on behalf of herself and 116 other plaintiffs, including at least three dozen nurses and others with medical training. The rest hold jobs ranging from patient liaison to lab tech to transplant coordinator.  All of them want the freedom of body autonomy to decide what they put in their bodies.
But this has been a long time coming.  Last year, before the vaccines (which aren't vaccines by any definition of the term), were announced, medical journals were already talking about how to punish those who won't submit to the reward-based system of free beer, lotteries, donuts, etc. and just take the shot because ruling class propaganda told them to.
Medical Journal: Get The COVID-19 Vaccine, Or Be Punished HARSHLY
So far, employers have been hesitant to mandate the "vaccine" as a condition of employment. Methodist's CEO Marc Boom decided medical tyranny and force were the way to go. He soon began hearing from others eager to follow his lead, according to USA Today.  "My phone and email have rung off the hook," says Boom, a fit, gray-haired doctor who urges people to call him by his first name. "We're all going to go there. It's just a matter of when not if."
And how did Boom get away with mandating a vaccine?
Boom had started with an incentive: a $500 "hope bonus" for anyone who got the vaccine by March. He traded that carrot for a stick in April, telling those who did not comply their jobs were on the line. His success up to that point informed his decision to act.

"I would have never pulled the trigger on a mandate if we were sitting at 55%," Boom said. "You do have to run a hospital and care for everybody, and you do need your staff to do that." –USA Today
This is just the beginning.  If you plan to refuse this shot, have a backup plan. This won't end until the "whole world is vaccinated." They have already let that cat out of the bag. Start saving some money, invest in gold or silver or cryptocurrency to protect the wealth you have, and most importantly, stand firm. They will continue to treat us like slaves as long as we act like slaves. If we conduct ourselves as the free human beings we were born to be, they have no power and they know that.  All they can do is try to manufacture as much consent to be "governed" which means "controlled" as possible.
This lawsuit, if anything, should prove that trying to use the system to beat the system is never going to work. It wasn't designed to work in our favor but in theirs.