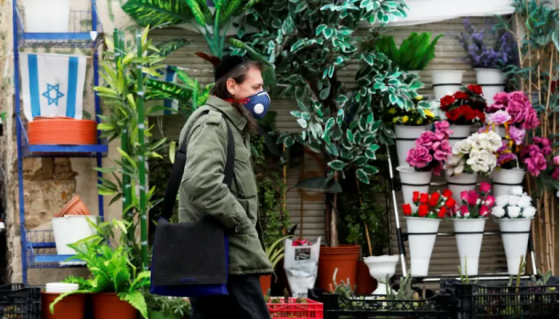 This is the most unsurprising news of the week. Reports as now showing that Israel's second lockdown has been "economically costly." The country locked down again over a sure of infections and it has ruined what was left of people's livelihoods.
"The economy is breaking down, people's hope is breaking down," said restaurateur Tamir Barelko, speaking in the Tel Aviv restaurant he runs, now empty of customers. "If the government does not give us the opportunity to live and to provide for our families, we'll do it ourselves." Unfortunately, it may come to that.
According to U.S. News, a lot of people aren't just takin this lying down either. Thousands of people have taken to the streets across Israel for almost daily protests that have built up since July, demanding Prime Minister Benjamin Netanyahu resign over his handling of the crisis and over corruption charges he faces in court, which he denies.
Schools and most offices, shops, and restaurants are closed unless they provide "vital services" such as supermarkets, pharmacies and banks, and people must stay within a kilometer from their home – harsher restrictions than in many other countries fighting a second wave.
Netanyahu had wide public backing when he imposed the first lockdown, lasting from mid-March until late May, which flattened the first wave of COVID-19.
But as infections soared after schools and businesses reopened, the cabinet bowed to pressure from some coalition partners and watered down limited lockdowns on infection epicenters to the extent that the curbs became ineffective. –U.S. News
News reports are claiming the U.S. has the highest number of coronavirus cases now, since August. Not only that, Dr. Anthony Fauci says he's "not comfortable" with the current amount of coronavirus cases in the U.S. The U.S. is reporting roughly 40,000 new coronavirus cases a day, which may get even worse as temperatures get cooler and people head indoors, Fauci said during an interview with MSNBC's Andrea Mitchell. "I'm not comfortable with that. I would like to see that level, way, way down, well below 10,000."
Does anyone want to go ahead and do the math on how many 40,000 is out of 325 million the population of the U.S.? It's inconsequential unless you're a tyrant looking to impose your will on others and finish off the middle class. Fauci has already suggested the U.S. "hunker down" this winter. Make no mistake, if they can, and they would like to, they WILL impose a second lockdown here.