This article was originally published by Michael Snyder at The Economic Collapse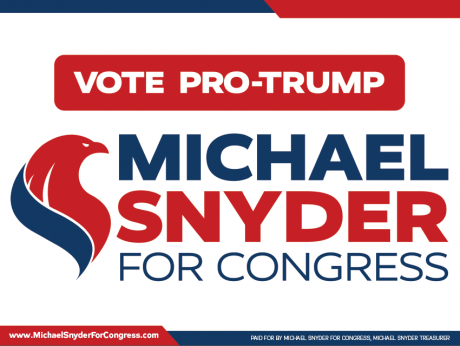 The 2018 mid-term elections are going to be all about Donald Trump, and Republican candidates all over the nation need to make it clear where they stand. Either you are with Trump and want to support his agenda, or you are running for Congress for some other reason. Personally, I am making it exceedingly clear where I stand. My new campaign signs have "Vote Pro-Trump" emblazoned right across the top, and the first thing that visitors to my campaign website see is a pro-Trump slogan. Trump supporters all over Idaho are pouring into our campaign, and many of them are extremely enthusiastic. In fact, one of our supporters made some incredibly funny modifications to our new campaign sign, and you can see his work right here. When Meranda saw that, she literally couldn't stop laughing.  And without a doubt that meme is quite over the top, but it just illustrates how people are feeling about our campaign.
I believe that any Republican that is running for Congress should be unashamedly pro-Trump, and I don't understand those that are trying to distance themselves from the president. Here in Idaho, a number of my opponents have absolutely no intention of helping Donald Trump once they get into office, and that is why it is so imperative that we win this race. With less than four months to go, the numbers tell us that it is an extremely close race and up to two-thirds of the voters are still completely undecided. We need your financial support to help reach those undecided voters, and if you would like to help, you can donate online right here.
There are some that are now calling me "the most pro-Trump candidate for Congress in America", and it is a title that I am fully embracing. I certainly don't mean any disrespect to any of the other pro-Trump candidates that are running around the nation, and I hope that I end up having a lot of competition for that title. We need to get President Trump as much help in Congress as possible, and I have been very open about the fact that I want to be Donald Trump's best friend in Congress once I get there.
In just a few hours I will be getting on a plane. I will be heading back down to south Idaho for yet another campaign trip, and we have a major campaign announcement tomorrow morning.
I don't want to spoil the surprise, but let me just say that this is going to be huge. We will be holding a press conference on the steps of the state capitol building in Boise at 9 AM on Wednesday morning. If it is raining, we will move things inside, but at this point the forecast looks good. Supporters from all over south Idaho will be there, and if you are free I would love for you to join us.
In addition, the first major candidate debate will be held on January 28th. It will be held at the Coeur d'Alene Public Library from 1 PM to 3 PM, but we are encouraging our supporters to get there early because the good seating will go fast. You can find more details about the event right here.
At this point, we pretty much know who is going to win about 90 percent of the races for the House and the Senate around the country. We need to focus on the races that are still up for grabs, and my race is one of those.
Raul Labrador is moving on to run for governor, and so there is no incumbent in my race. There are six people running to fill that seat, and the numbers tell us that name recognition for all of the candidates is extremely low with less than four months to go until May 15th.
If we can even get up to 30 percent cold name recognition, we win  Right now the numbers tell us that we are about to pass several of the more established candidates in name recognition, and we have won the two most recent KIDO online polls by a very wide margin. We need to get our message to more than 400,000 registered voters over the next four months if we want to win this thing, and we desperately need more resources.
We need to print up more signs, more brochures, more mailers and more bumper stickers. Demand for campaign materials continues to grow, and that is a great problem to have. On our official campaign website, you can donate via credit card, Paypal or by mailing us a check.  This is a practical way that you can contribute to the effort to take our government back.
If you live in Idaho, this is crunch time. We need more volunteers, because the big push is right ahead of us. If you would like to volunteer, you can find our online form right here. I have been absolutely amazed at the incredible people that God has brought into this campaign, and it is a privilege just to get to spend time with this very special group. If you want to get to know some of the most remarkable people that you have ever come across in your entire life, come and join us.
If you would like to keep up with the latest news from the campaign, the best way to do that is by regularly visiting our official Facebook campaign page. We literally update it several times per day, and the latest updates will be posted there first.
When you stop by the page, please like, share and comment on the material that we post. When people start engaging with our material, it sends a signal to Facebook that they should start showing it to more people. And so when you like, share and comment, it helps get our message out to more potential voters.
And one thing that we want Trump voters all over the nation to understand is that the best way that they can support Trump right now is to support pro-Trump candidates for Congress. Because our district is so heavily Republican, whoever wins the primary on May 15th is going to be the next member of Congress from this district. And once someone gets in, it is nearly impossible to vote a Republican incumbent out in Idaho.
So the destiny of this seat in Congress for the next 20 years could be decided less than four months from now, and if we want a pro-Trump candidate to fill that seat we have got to win this campaign.
If you stand with President Trump, please prayerfully consider supporting us financially. We desperately need more fuel in the tank, and even though we are winning the online polls, a couple of my opponents have built a little bit of a lead in fundraising.
You can help us close that gap by donating today. The 2018 mid-term elections are the most important mid-term elections in modern American history, and the fate of the Trump movement hangs in the balance.
The future of our country is worth fighting for, and the decisions that we make now will determine what kind of a nation this will be for our children and our grandchildren.
In Liberty,
Michael Snyder