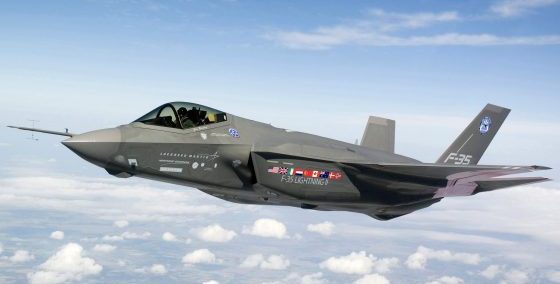 The first two of 12 US Air Force F-35 Joint Strike Fighter jets arrived in Okinawa on Monday.  The aircraft will soon begin a six-month deployment in Japan as part of Pacific Command's "theater security" program.
Is this a red flag for war with North Korea? Suspicions run high as tensions in the area continue to stiffen. The F-35 Joint Strike Fighter, the most expensive and one of the most controversial weapons systems in United States history, is dubbed "the cornerstone" of US defense in the Pacific. But what exactly are we "defending" against?
The Marines deployed their version of this fighter jet to a US base in Iwakuni, Japan in January.
According to CNN, approximately 300 airmen from Hill Air Force Base, Utah's 34th Fighter Squadron will accompany the fifth-generation fighters to Kadena Air Base, Japan. The remaining 10 jets are expected to arrive in Okinawa this week, according to Air Force spokesperson Victoria Hight.
This deployment marks the first time that the Air Force's version of the F-35 has been sent to the region and is meant "to demonstrate the continuing US commitment to stability and security," according to the service. "The F-35A gives the joint warfighter unprecedented global precision attack capability against current and emerging threats while complementing our air superiority fleet," said Gen. Terrence J. O'Shaughnessy, Pacific Air Forces commander, earlier this month. "The airframe is ideally suited to meet our command's obligations, and we look forward to integrating it into our training and operations."
While the Air Force said its F-35 deployment has been "long-planned," their arrival comes as President Donald Trump prepares for his first official visit to Japan and amid simmering tensions with North Korea.  The coincidences are just a bit much to miss this time.
Perhaps this means a war is imminent, or at the very least, tensions will certainly increase between the US and Pyongyang.