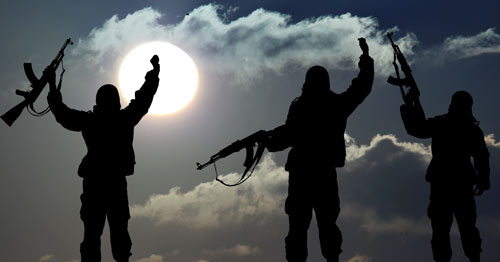 From its inception, ISIS was well on its way to becoming another dark chapter in human history. However, as their self-proclaimed caliphate is chipped away by Kurdish, Iraqi, and Syrian forces, some of their darkest secrets are being revealed to the entire world. And those secrets tell us even more about just how evil this organization is.
In Mosul for instance, where Iraqi military units have nearly finished rooting out every ISIS element in the city, security forces have uncovered chilling documents left behind by the terror organization. These documents reveal that ISIS has been using human guinea pigs to test chemical weapons, which experts fear may be used to spike food supplies in the West.
The experiments were recorded in a stash of papers found hidden in Mosul University after Iraqi special forces recaptured the city from IS fighters.

They reveal one victim was fed thallium sulphate – a colourless, tasteless salt that can be dissolved in water – and began to suffer fever, nausea, and swelling of the stomach and brain before dying in agony ten days later.

Isis described the chemical as an "ideal lethal poison" and claimed to be in "possession of an ample amount of the solution to fill demands", according to the documents, which were verified by British and US forces and later obtained by The Times.

Terrorists also injected a nicotine-based compound, said to have no antidote, into another victim who passed out within seconds and died hours later.

Ingredients for the poison are contained in cigarettes and vaping supplies, while thallium sulphate is available for sale in many countries including the US.
News of these horrific experiments was unveiled a week after the media reported that ISIS is currently organizing a new chemical weapons research unit.
The Islamic State militant group (ISIS), on the back foot in Iraq and Syria, is bringing together its top chemical weapons experts in the border area between the two countries with the aim of creating an elite "chemical weapons cell," U.S. intelligence believes.

The cell, according to a U.S. official speaking to CNN, consists of the jihadi group's most senior specialists from the territory it controls in Iraq and Syria.
These stories support a new narrative being pushed by the media and our government. They've been saying the same thing for several weeks now: As the Islamic State crumbles, ISIS is morphing back into an underground organization that will focus less on holding territory, and more on conducting insidious terror attacks in the West.
When you examine these stories together, and consider the fact that our government has been secretly helping ISIS and Al-Qaeda in Syria for years, we have to ask ourselves a very important question. Is the mainstream media priming the public for a major chemical weapons attack on the West; an attack that our government may be complicit in? Because it sure looks like they're telling us to expect a chemical attack in the near future.
ISIS is clearly a creation of the deep state, who are also desperately trying to co-opt President Trump's administration. They want him to drag our country into yet another major war in the Middle East. And if their ISIS puppets pull off this kind of attack, they might just convince him to follow the warpath that they have laid out for him.
Read More:
Hillary Emails Prove She Knew: "For Years, Government Supporting Al-Qaeda, ISIS"
Think Tank Reports ISIS Is Falling Apart: "May Actually Lead to More Terrorist Attacks Across the Globe"
ISIS Magazine Tells Muslims To Lure and Kill Unsuspecting People With False Advertisements for Jobs and Apartments
The Prepper's Blueprint: The Step-By-Step Guide To help you Through Any Disaster