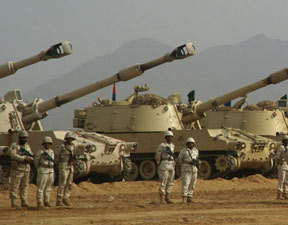 What's going down in the Middle East right now is the perfect example of a black swan event. Out of nowhere, Saudi Arabia, Bahrain, UAE, Egypt, Yemen, and the Maldives cut off diplomatic relations with the nation of Qatar several days ago. Saudi Arabia and the UAE (who are leading the charge against Qatar) have since placed a naval blockade on Qatar, and have cut air and land links with the nation as well.
Keep in mind that Qatar is a fairly small nation, surrounded by larger neighbors that are basically threatening to completely cut them off from the rest of the world if they don't comply with their demands, which are to cut ties with Iran, as well as radical organizations like the Muslim Brotherhood and Hamas. The blockade is so serious, that the residents of Qatar have been stripping grocery stores bare in anticipation of food shortages.
And on top of that, Saudi Arabia has just issued an ultimatum to Qatar, with conditions that the nation must comply with over the next 24 hours if they want diplomatic relations to normalize. According to a journalist with Al-Jazeera, the demands include the following:
Immediate severance of diplomatic relations with Iran,
Expulsion of all members of the Palestinian resistance movement Hamas from Qatar,
Freezing all bank accounts of Hamas members and refraining from any deal with them,
Expulsion of all Muslim Brotherhood members from Qatar,
Expulsion of anti-[P]GCC elements,
Ending support for 'terrorist organisations',
Stopping interference in Egyptian affairs,
Ceasing the broadcast of the Al Jazeera news channel,
Apologising to all [Persian] Gulf governments for 'abuses' by Al Jazeera,
Pledging that it (Qatar) will not carry out any actions that contradict the policies of the [P]GCC and adhering to its charter.
Of course, contrary to what the media is saying on the matter, the current tensions with Qatar have nothing to do with their associations with terror groups. For instance, aside from oil, Saudi Arabia's biggest export is radical Islam and terrorism. They are what ISIS would be if that terror group defeated government forces in Iraq and Syria. Saudi Arabia isn't doing this because Qatar is backing terror groups, they're doing this because Qatar is backing terror groups that are aligned with their rivals in Tehran.
In any case, Saudi Arabia hasn't said what the consequences would be if Qatar doesn't abide by these demands, but those consequences could be dire.
Analyst Giorgio Cafiero of Gulf State Analytics, a geopolitical risk consultancy based in Washington, DC, told Al Jazeera: "I think the Kuwaitis as well as Omanis … fear the prospects of these tensions escalating in ways which could undermine the interest of all six members of the GCC.

"There are many analysts who believe that a potential break-up of the GCC [Gulf Cooperation Council] has to be considered right now."

He added that if tension escalates, some have warned of a "military confrontation".

"If these countries fail to resolve their issues and such tensions reaches new heights, we have to be very open to the possibility of these six Arab countries no longer being able to unite under the banner of one council," said Cafiero.
So basically, over the course of three days, Qatar's oil rich neighbors went from begrudgingly accepting their foreign policy decisions and living in peace with them, to placing a blockade on all of their sovereign borders. It's been three days, and now the potential for war between the Gulf oil states and Qatar has drastically increased.
Is it any wonder why the Middle East has such a terrible reputation for instability? Even one of their wealthiest and most stable nations is staring down the barrel of a gun.
Read More:
The Reality Of Saudi Arabia Going To War: "They Will Lose 50% Of Their Forces In The First Engagement"
The Life and Times of the Thanksgiving Turkey: He Never Saw It Coming
Saudis and the Dying Petrodollar: "The Global Economic Rest Has Begun"
Saudi/Iran Split Risks "Chain of Violent Consequences" That Would Drag U.S. Back Into War