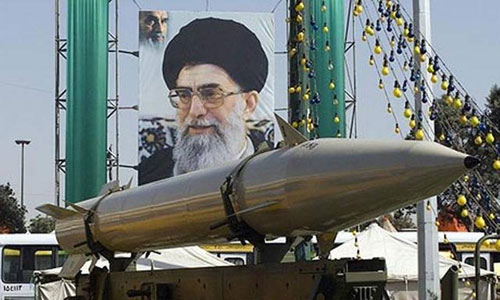 Iranian President Hassan Rouhani told a cheering crowd of thousands Tuesday that if any country decides to betray the 2015 nuclear deal, there will be "severe consequences."  Although Rouhani didn't specifically name the United States, he did say that Tehran is "prepared for all possible situations."
The New York Times reported that Germany's Chancellor Angela Merkel will work to convince Donald Trump to stay in the agreement at a meeting later this week.  And in the meantime, French president Emmanuel Macron is diligently working on swaying Trump's mind on the issue as well.  Both European leaders want the US to stick to the 2015 nuclear deal put in place by Barack Obama.
Wendy R. Sherman, the former top official at the State Department who negotiated the deal for then-President Obama, told the paper that Trump and Macron are likely having a "very difficult conversation," reported Fox News. "I'm sure that Macron will say how important staying in the deal is to a strong trans-Atlantic relationship in all things, particularly security," she said.
The White House on Monday appeared to show little change in Trump's opinion on the deal. "He thinks it's a bad deal…that certainly has not changed," Sarah Sanders said alluding to the possibility of rejecting the deal entirely. Trump hasn't hidden his disdain for Obama's 2015 nuclear deal with Iran.
https://twitter.com/realDonaldTrump/status/827478751931924480
https://twitter.com/realDonaldTrump/status/911711539815702529
Trump's tweet alone shed some light on his feelings about how things are going with Iran.  Tensions seem high, but they may go even higher on the heels of Iran's vow of severe consequences. According to USA Today, Iran cannot be trusted to uphold their end of the nuclear agreement, however.
The key reason that President Trump must not only not recertify the Iran nuclear deal but outright abrogate it is because Tehran is explicitly and demonstrably out of compliance with the agreement on numerous specific counts. Further, after the Iranian regime was caught in 2002 operating a clandestine weapons program in violation of the Nuclear Non-Proliferation Treaty — conduct underway for at least 14 years — and has never come clean about that program, it cannot be trusted to adhere to any other agreement. –USA Today
It appears that even some in the mainstream media are siding with Trump and asking him to withdraw from the weapons accord.  Even after inception of the agreement in 2015, the regime has been confronted with credible information that it is operating more advanced centrifuges than permitted, exceeding limits on production of heavy water and, according to Fox News, covertly procuring nuclear and missile technology outside of approved channels: These are all material breaches of the deal.