This report was originally published by Tyler Durden at Zero Hedge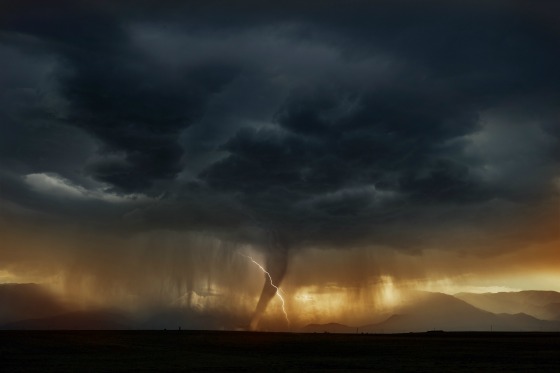 Parts of Iowa were left devastated as several tornadoes carved a path through the state. In Marshalltown, a city of 27,000 people around 50 miles northeast of Des Moines, roofs were peeled off buildings like tin cans, buildings were flattened, and the cupola of the historic courthouse was blown 175 feet to the ground as city officials declared a state of emergency with a 9pm curfew.
OH MY GOD. WATCH as an observed tornado just rips these houses to shreds in this Bondurant neighborhood. pic.twitter.com/SEwtuyWGFa

— KCCI News (@KCCINews) July 19, 2018
Debris goes flying as a tornado touches down in central Iowa, where several people were injured as severe storms moved through the area. https://t.co/aSC6Ixthco pic.twitter.com/xR0R138tQF

— ABC News (@ABC) July 20, 2018
Video shows tornado striking Marshalltown, Iowa, causing courthouse tower to collapse. ?: @b_hernandez21s pic.twitter.com/Hzxn4veeiD

— BuzzFeed Storm (@BuzzFeedStorm) July 19, 2018
Residents have been asked to stay out of the north part of town, as downed power lines, gas leaks and debris pose a danger.
Video from Brian McMullen of the tornado that moved through #Marshalltown #iawx @weareiowa5news pic.twitter.com/y2Va0Hegrd

— Taylor Kanost (@WxKanost) July 19, 2018
The damage was widespread, as the emergency room at the Marshalltown hospital remained open to treat injured patents, while the main hospital evacuated 40 patients, according to UnityPoint Health hospital spokeswoman Amy Varcue. Ten people injured by the storm had been treated by 7pm Thursday, while the extent of their injuries are unknown.
A spokesperson for UnityPoint Health in Marshalltown said the hospital sustained damage from the tornado as well and that 40 patients were being evacuated.

UnityPoint Health spokeswoman Amy Varcoe, who is based in Des Moines, said it was unclear how severely the UnityPoint hospital in Marshalltown was damaged, but the patients were relocated to the health system's medical centers in Waterloo and Grundy Center and said they are "unable to treat incoming patients." –KCCI
Tornadoes didn't sapre Vermeer Manufacturing, which makes farm and construction equipment in the town of Pella around 40 miles southeast of Des Moines. Giant sheets of metal were scattered throughout a parking lot, as warehouses were destroyed.
The company which makes hay balers, mowers and equipment for the pipeline and forrestry industries employs around 2,800 people. CEO Jason Andringa said that 400 dealers and customers were in town this week to celebrate the company's 70th anniversary, according to KCCI.
Vice President of Operations Vince Newendorp said the east half of the company's campus, which includes seven manufacturing buildings, sustained extensive damage.

He said the plant activated its storm warning system and workers were in shelters when the storm hit. –KCCI
Pella Police Lt. Shane Cox told KCCI that several plant workers were taken to the hospital, however the number of people and the extent of their injuries are unknown. Emergency responders entered the damaged building to search for any trapped victims.
Feel very lucky – took a direct tornado hit in downtown Marshalltown with my sister – pic.twitter.com/s6Gt10DQbr

— Golfergirldee (@golfergirldee) July 19, 2018
Pieces of wood deeply pierced into the bumper of this car in Marshalltown. #Tornado damage always is frightening. #IAwx pic.twitter.com/pKWJpQa7ZP

— Nick Stewart (@NStewCBS2) July 20, 2018
Tornado's aftermath: Vehicles flipped over and piled on top of one another in the parking lot of a central Iowa company where several people were injured as severe weather made its way across the region. https://t.co/DiOiUkfw2Q pic.twitter.com/AOFOapIqEq

— ABC News (@ABC) July 20, 2018
North of Altoona, double tornado. Wow man. Wow. #iawx pic.twitter.com/y5M3oSZmo5

— Stefanie the First of Her Name Queen of twitte®? (@jbelcap) July 19, 2018