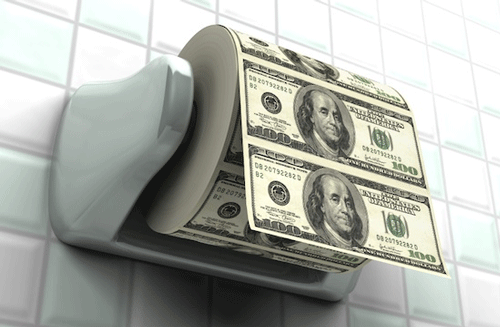 A key measurement of inflation, The Consumer Price Index, rose 2.5% in October from a year earlier.  The inflation was linked to rising gas prices by the media, but there's more to it than just the cost of fuel. Rising inflation is actually also likely tied to the deficit, rising interest rates, and the national debt.
According to a report by Market Watch, Americans paid more in October for gas, rent and used vehicles, triggering the biggest increase in consumer inflation in nine months. There was an increase in the cost of living over the past 12 months as well.  That jumped to 2.5% from 2.3%. The rate of inflation is still below a six-year high of 2.9% set three months ago, however.
Even though the price of gasoline played a role on the rising inflation, the cost of rent, used cars and trucks, medical care, home furnishings, and car insurance also increased and all of these are major household expenses. The worst news, perhaps, is that after adjusting for inflation, hourly wages slipped 0.1% in October. Wages are up a mild 0.7% in the past year, according to CNBC.
This rise in inflation will likely keep the Federal Reserve on their current path of increasing interest rates as well.  The United States' central bank left interest rates unchanged last Thursday, but it is still expected to increase borrowing costs in December for a fourth time this year. In its statement after last week's policy meeting, the Fed noted that annual inflation measures "remain near 2 percent."
Even though most prices rose, prices for new motor vehicles dropped 0.2 percent last month and communications costs fell too. Prices for recreation and personal care products also decreased slightly. However, the minuscule decrease in vehicle prices won't last long as the trade war with China is still in effect. Economists warn that the cost of a new car could jump up $7000 thanks to the tariffs imposed on Chinese imports by the Trump Administration.
https://www.shtfplan.com/headline-news/trade-war-tariffs-could-raise-the-cost-of-a-car-7000_09272018