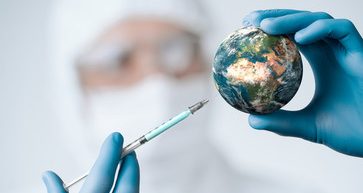 The rulers are becoming desperate, and when that happens, more tyranny rolls our way. In fact, in New York, the ruling class has resorted to punishing those who continue to defy their commands to take the injection for something that has been shown to be akin to the common cold or the flu.
The masters need 100% compliance, not 60% or 85% and they continue to move the goalposts to try to get there. Fifteen out of 16 adult New Yorkers have gotten the jab, but that's not enough to keep the government from fining businesses and excluding kids for the crime of disobeying their orders.
Beginning Monday, at the order of Democratic Governor Kathy Hochul, every business in the state was required by law to have every employee and customer show proof of full COVID-19 vaccination, or make everyone inside their doors over the age of 2 wear a mask. But a mask isn't going to be enough either.
Six months ago, then governor Andrew Cuomo lifted most of the COVID restrictions because 70% of the population received two doses of the shot. "What does 70 percent mean?" Cuomo said then. "That means that we can now return to life as we know it." Except even with an 81% vaccination rate, people are still coming down with the COVID. The real question, is why do they keep getting the shots? It's clear there have been massive lies about this from the beginning.
The CDC ADMITS: PCR Tests CANNOT Differentiate Between Coronaviruses!
It is already pretty apparent that even a 100% vaccination rate won't stop the spread of this scamdemic. The "winter surge" across the northeast (which currently has the highest rates of vaccination and coronavirus cases in the United States) is already in full swing. Middlebury College in Vermont, for example, canceled in-person instruction last week after an outbreak of 50 cases on a campus whose vaccination rate is 99 percent.
But what happens after the two-shot vaccination rate goes from 81 percent to 90 percent, maybe even 95 percent, and yet the cold weather and latest variant still increases case rates? How much government force will Democrats be willing to exert to achieve full compliance on minority communities that have lost trust in authoritative institutions? I guess we're about to find out. –Reason
The goal is obviously, a 100% vaccination rate. It sure looks like they must get everyone to take these shots. The reason is still speculative, but the pressure to get injected is mounting and that's incredibly clear.