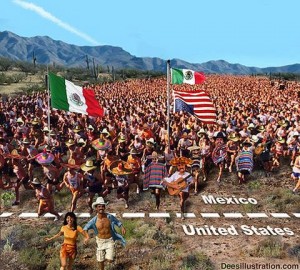 The Los Angeles suburb Huntington Park made history, as the first city in the United States to official appoint undocumented, illegal immigrants as city officials.
Some locals are infuriated after a city councilman made the announcement, sounding a sharp cry of opposition, but even so, the point of no return has been crossed — illegal immigrants are becoming an official part of the government.
CBS Los Angeles reported:
Councilman Jhonny Pineda announced at Monday night's city council meeting the appointment of two undocumented immigrants as commissioners…

"You are out of order!" one woman in the crowd yelled at the council members during the meeting.

Some critics say Pineda, who joined the council in March, specifically picked Medina and Zatarain because they worked on his campaign. Others say they don't believe undocumented immigrants should serve the government this way.

"We're sending the wrong message: you can be illegal and you can come and work for the city," a woman told Finnstrom.

[…]

Frank Medina will join the health and education commission and Julian Zatarain will be working with the parks and recreation commission.

[Pineda] promised voters on the campaign trail he'd create opportunities for the city's sizable undocumented immigrant demographic.
Officials defending the decision say that the appointees will be unpaid, in accordance with federal law, and will have no say over policy.
Nonetheless… the appointments are another milestone in what many see as the undoing of the United States, and respect for its Constitution and laws.
The move is indeed historic — a snapshot of a larger fall of the empire, with barbarians officially in the gate, with hoards and gangs within government and in the populace more powerful than institutions it is in the midst of sacking. The nation seems to be in a period of dissolution, where racial and ethnic enclaves are breaking off into fragmented areas.
Putting citizens with a shaky legal status in an official position of authority in a local government is a bold move beyond even amnesty for undocumented workers with controversial status in an economically challenged and politically divided.
Many in the Huntington Park community have vowed to challenge the legality of the appointments, but City Councilman Jhonny Pineda claims he ran it by city lawyers, and feels confident that appointments will stand, and the broader community served by including a sector not generally recognized by the political process.
Just imagine what millions of now-documented immigrants, granted amnesty and a path to citizenship, can do with a massive voting bloc big enough to swing both local and national elections.
Just imagine how big this change will be, and how much more dangerous promises it could bring through big government programs.
Read more:
Obama to Legalize Illegal Immigration by Decree; Will Add 800,000 Voters In November
Illegal Immigration And Gangs: Someday Our Cities Will Burn Because We Didn't Protect Our Borders
Hidden Tariff On American Citizens In New Immigration Bill: Millions More Stand To Lose Their Jobs