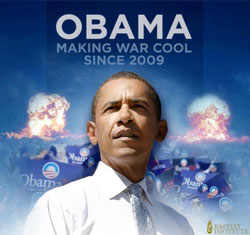 There's not much that can keep President Obama off the golf course. According to the Obama Golf Counter, the President has spent some 192 days on the golf course since he took office, fully 10% of his term thus far.
Democrats and Republicans alike have complained about the President's handling of foreign policy, especially as it relates to the most recent upsurge of the Islamic State. Last week, after a video of reporter James Foley being executed was released, Obama left the golf course to give a brief speech about the incident. Almost immediately after he returned to the green.
So what kind of motivation does the President need to get engaged in this and other policy issues facing America?
The following cartoon, posted by Jim Quinn of The Burning Platform, could be motivation enough if ISIS rebels were to do it for real.
As Zero Hedge notes, THIS would be unthinkable…
 Source: Cagle