Ghislane Maxwell has admitted that she believes her former associate and disgraced financier Jeffrey Epstein was murdered. You don't say…
A former socialite and convicted sex trafficker Ghislaine Maxwell told Britain's Talk TV in a jailhouse interview that she believes what the rest of us already know: Epstein didn't kill himself. Maxwell is currently serving a 20-year sentence in a Florida prison for helping Epstein sexually abuse girls.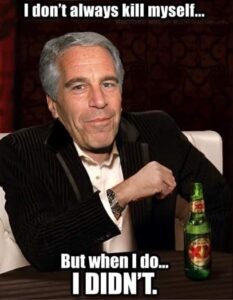 Epstein, who was facing multiple charges of sex trafficking of minors, was found dead in his cell at the Metropolitan Correctional Center (MCC) in New York City in August 2019. His death was officially ruled as a suicide by hanging, but there has been widespread speculation about the real cause.
For instance, a forensic pathologist hired by Epstein's brother said multiple fractures found in his neck were "very unusual in suicidal hangings" and more consistent with strangulation.
"I believe that he was murdered," Maxwell said in the Talk TV interview. "I was shocked. Then I wondered how it had happened because as far as I was concerned, he was going to … I was sure he was going to appeal." Maxwell added earlier, one of her fellow inmates was offered money to murder her and schemed to "strangle her in her sleep," according to court papers filed last year by her lawyers ahead of her sentencing.
She's not saying anything the rest of the world wasn't thinking. Does anyone actually believe Epstein killed himself?
"This incident reflects the brutal reality that there are numerous prison inmates who would not hesitate to kill Ms. Maxwell—whether for money, fame, or simple 'street cred,'" the lawyers wrote in the filing, suggesting someone may have wanted Maxwell dead badly enough to pay for it.
Maxwell was convicted of helping Epstein "abuse minors."
Ghislaine Maxwell Fears She'll Meet The Same Fate As Epstein & Be Murdered