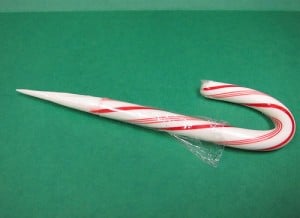 It would have seemed ridiculous a decade ago, but in today's terror prone world it's become business as usual. The latest threat?
Candy Canes.
If reports are to be believed, administrators at Battlefield High School in Haymarket, VA punished ten members of the school's Christmas Sweater Club for participating in the spreading of Christmas cheer, part of which included the tossing of small, individually wrapped candy canes to students.
According to accounts by several students, the school punished them with detention and cleanup work because the popular holiday treats pose a possible threat to others due to the ease of weaponizing the candy canes.
Skylar Torbett, a junior, says he was told, "candy canes are weapons because you can sharpen them with your mouth and stab people with them." Zakk Rhine, another member of the club, was told that the candy canes could, "maliciously maim students with the intent to injure."
School administrators deny the allegations, citing unruly behavior, littering and creating a disturbance. The official student "referrals" sent to parents made no mention of candy canes or the possibility that they could be used to maim or wound.
One can surmise that the students, being part of a cheer club, may have been somewhat excited about Christmas and may have engaged in some unruly behavior while tossing candy canes and spreading the Christmas spirit. However, the reports that candy cane weaponization may have played a roll in the punishments cannot be completely dismissed given that children in federally funded public schools across the nation have been subject to disciplinary action for things like holding a hand in the shape of a gun, drawing a weapon or even writing stories that contain hints of violence.
Now that the threat of candy canes as weapons has been identified, it's only a matter of time before school administrators across the nation realize that disasters may loom around every corner and they've been there unbeknownst to most for quite some time. Pencils and pens, of course, should be first on the list, as they are already weaponized and can be easily transformed from educational tools to deadly weapons. Lockers, backpacks and even books may also potentially lead to violence and injury.