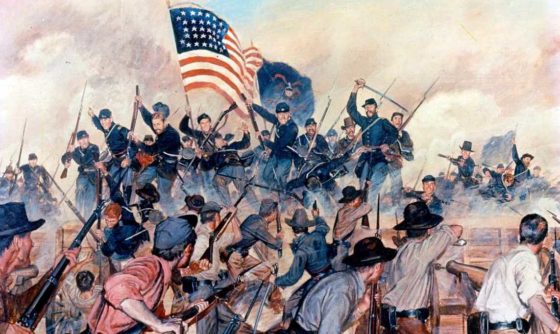 A historian has warned that America today looks like it did in the days before the Civil War. Heather Cox Richardson, a history professor at Boston College who is a supposed expert in 19th century America, laid out on Twitter what she described as the "eerily similar" parallels after President Donald Trump's controversial civil war tweets.
Trump, who is facing impeachment by the House of Representatives over the Ukraine-Biden affair, tweeted comments made on Fox News by the evangelical pastor Robert Jeffress that the president's removal "will cause a Civil War like fracture in this Nation from which our Country will never heal." Richardson agreed, saying there are "eerily similar" parallels after Trump's controversial civil war tweets.
According to a report by Newsweek, Richardson likened "movement conservatives" to the "slaveholder elites" of the pre-Civil War period.
"The parallels between the consolidation of elite slaveowners' power from 1830-1860 and the rise of Movement Conservatives from 1954-2019 are eerily similar," Richardson said, remarking that they both took power by "denigrating black Americans."
"Their racial dog whistles won voters and they began to pass laws that moved wealth upward. The more those laws hurt regular people, the more they doubled down on racism against all POC, and then turned on 'Feminazis,' all of whom they said threatened white men's liberty.
"As they got richer and lost popular support, they came to believe they were the nation's natural leaders who should rule even as people turned against their policies. They stayed in power by gaming the system: gerrymandering, voter suppression, and a compliant SCOTUS.

"But that is now crumbling. When Trump threatens civil war, he is not just talking about saving his own hide; he is calling for his supporters to rally around race and gender so they protect the oligarchy that has been gathering power for a generation or more." –Newsweek
It's amazing that the most brainwashed people in this country can't see that the entire government has enslaved everyone in every country around the world.  If we really want to talk about slavery, all people need to withdraw support from the only master left: the governments. While there may be some parallels that could be discussed, it isn't the exact same scenario.  Now, the only people claiming to have authority over others are those in the government, and that goes for all parties.
On Monday morning, Trump tweeted out the comments made by Pastor Jeffress, an action one Harvard law professor said was an impeachable offense in and of itself. Trump tweeted: "'Nancy Pelosi and the Democrats can't put down the Impeachment match.
"They know they couldn't beat him in 2016 against Hillary Clinton, and they're increasingly aware of the fact that they won't win against him in 2020, and Impeachment is the only tool they have to get rid of Donald J. Trump – And the Democrats don't care if they burn down and destroy this nation in the process.
Spoiler Alert: The Most Dangerous Superstition
is the belief in authority.  The belief that some people make rightful masters and others have an obligation to obey.
The primary threat to freedom and justice is not greed, or hatred, or any of the other emotions or human flaws usually blamed for such things. Instead, it is one ubiquitous superstition which infects the minds of people of all races, religions, and nationalities, which deceives decent, well-intentioned people into supporting and advocating violence and oppression. Even without making human beings one bit more wise or virtuous, removing that one superstition would remove the vast majority of injustice and suffering from the world.