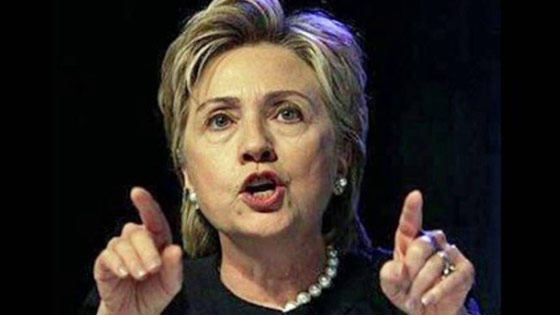 Hillary Clinton has officially opened the door to questioning the legitimacy of the 2016 presidential election – the very election she lost. But she still claims it's Russia's fault Donald Trump won.
In an interview that aired Monday on NPR, Hillary Clinton she "would not" rule out questioning the legitimacy of the 2016 election if Russian interference is deeper than currently known. Unable to give up on the Russian hysteria she and other Democrats created out of thin air, the former presidential candidate is going to whine about it instead.
According to CNN, this just means Clinton firmly believes that Russia helped president Donald Trump win and she still isn't taking any responsibility for the fact that Americans just didn't want her to be the president. Clinton has said previously that she conceded to Trump quickly and attended his inauguration because the nation's peaceful transfer of power is critical. But her comments to NPR signal that as the imaginary and completely made up depths of Russia's alleged interference are revealed she could envision a time when she questions Trump's legitimacy as president.
Not that that is surprising at all. Most Democrats at some point have questioned Trump's legitimacy. This was happening since the very beginning when the media announced he'd become the 45th president of the United States.
NPR's Terry Gross asked Clinton directly during the interview whether she would "completely rule out questioning the legitimacy of this election if we learn that the Russian interference in the election is even deeper than we know now?"

"No. I would not," Clinton said. Gross asked: "You're not going to rule it out?"

"No," Clinton said. "I wouldn't rule it out." –CNN
Although in her book that she's been promoting, What Happened (a reflection on her stunning loss in the 2016 election) she doesn't question Trump's legitimacy. It is, however, filled with several instances of ad hominem attacks against the president.
Clinton also devoted an entire chapter in her book to Russia and lays the blame on them for their "meddling" and "hacking" of the system which she alleges led to Trump's win.
Glen Caplin, a spokesman for Hillary Clinton, reiterated her comments in a statement after the interview aired. He said that the former secretary of state "has said repeatedly the results of the election are over but we have to learn what happened. I would hope anyone in America concerned about the integrity of our democracy would feel the same way if we got there. But we're not," Caplin said. "Right now Bob Mueller and several congressional committees are investigating to what extent the Russians impacted our election and who exactly helped them do so."
But Trump stood up to the ridiculous claims by the left. "This whole narrative is a way of saving face for Democrats losing an election that everyone thought they were supposed to win," Trump posted on social media in March.
https://twitter.com/realDonaldTrump/status/837489578193846278
"The Democrats are overplaying their hand. They lost the election, and now they have lost their grip on reality."