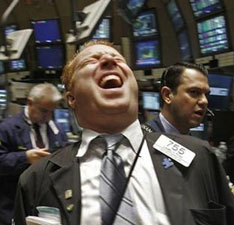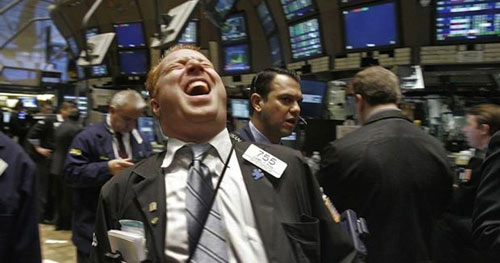 In mid January of 2016, just as global equities got hit with the biggest New Year's crash in history, CNN made it a point to assure investors everything was fine when they noted that America's Economy Is Still In Good Shape.
They've since changed their tune, but only slightly. The economy is apparently not doing so hot anymore, and with markets in turmoil and investors around the world panicked, CNN asks, is there anywhere left to hide?
Here's the better advice right now: take a breath and really, really really think hard before you sell stocks.

…

It's easy to worry about losses. The human brain is programmed for that. But smart investors don't panic, they stay invested and look for opportunities in times of turmoil.

…

It's easy to worry about losses. The human brain is programmed for that. But smart investors don't panic, they stay invested and look for opportunities in times of turmoil.

…

Yes, there is a lot of uncertainty for investors right now. Brexit, China, what the Federal Reserve will do with interest rates, the 2016 U.S. presidential election, where oil prices are headed. And that's to say nothing of terrorism or the overall belief that the market is overdue for a big pullback.

…

For the rest of us, the key is getting a good investing plan that includes a lot of stocks, some bonds and maybe some commodities (like gold) or real estate. The goal isn't to make money every day, it's to make a lot money over time.

"You need a more diversified portfolio, not less, in a world of uncertainty," says Masters.
In short, as mainstream financial pundits often recommend, buy more stocks. Lots of them. Because, with some of them trading at upwards of 300 times their price-earnings ratio, there's no better time than right near the all-time highs. And to further "diversify" your porfolio, buy government bonds at near zero interest, and oh, don't forget real estate, because that market, just as it was right before the sub-prime crash of 2008, is on fire.
Stocks. Bonds. Real Estate. Maybe some gold.
Thanks for the advice.
Call us crazy, but when we look at the current environment of a dollar that's being digitally printed to the tune of trillions of dollars, stocks overbought near all time highs, bonds with a flattening yield curve, and absolutely no legitimate solutions being presented to fix the fundamental economic problems facing pretty much the entire planet, we'll consider a slightly more contrarian diversified portfolio.
CNN did get one thing right. With gold prices at current levels, many have suggested a new bull market is upon us. That, coupled with the historical case that gold sky rockets during times of panic makes it a solid portfolio bet. It is, after all, real money that has been a godsend to those trapped in collapse situations like that of Zimbabwe, Greece Argentina and most recently in Venezuela. When it hits the fan, gold and silver are assets that can be used immediately for barter and trade.
But outside of these traditional investments, if we are preparing for market turmoil and the possibility of a debt collapse that some have warned could lead to the deaths of millions of people worldwide when it pops, we need look only at the collapse of Greece and the hyperinflation of Venezuela to help us determine what assets will thrive when the whole system breaks down into anarchy.
In Greece, people were literally fighting for food and life-saving medicines were impossible to acquire. Similar circumstances played out in the streets of Venezuela, where people stormed grocery stores and in some cases were literally killing animals in the streets so that they could feed their families.
Thus, perhaps a truly diversified portfolio given the circumstances would include not just CNN's recommended stocks and bonds, but physical assets that you can hold in your hand without counter party risk that could wipe out your investment if someone defaults down the line like, say, a major financial institution.
CNN hinted at it, but we're fairly certain that when they recommended investing in commodities they didn't mean things like long-term food stores, toilet paper, guns, ammunition and other critical supplies that will be necessary for survival should the system as we know it crash. 
So, while we agree with CNN that we need to run for the hills and hide, we may have a completely different idea of what that strategy may entail and why.
Also Read:
How To Prepare For Economic Collapse And Other Disasters – A Step By Step Guide
How Would You Survive Hyperinflation in Venezuela?
Analyst: "Millions Upon Millions of People Are Going to Die on a World-Wide Scale When the Debt Bubble Bursts"
Barter Society Emerges in Greece As Crisis Deepens *Video*
What is Coming? Elite Feverishly Building Survival Bunkers: "Fear of Uprising From the 99%"