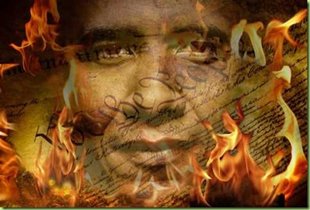 Back in 2011 we facetiously noted that innocent Americans were being added to terror watchlists and No-Fly lists at an alarming pace. So much so, we opined, that by 2020 every person in the United States would be deemed a terrorist and that the entire world would be on a government watchlist by 2025.
We were kind of joking… but only kind of, because as we highlighted last year, the President approved a substantial expansion of the lists wherein concrete facts are no longer necessary for law enforcement and intelligence agencies to flag pretty much anyone, for any reason as being suspected of terrorism. In fact, the new rules set forth by the administration make it possible for one to be added to a watchlist for being suspected of being a suspected terrorist. Yes, it is absolutely ridiculous on its face.
As we warned, the anti-gun left and especially the Obama administration is always looking for new and innovative ways to disarm American citizens. Whether it be high taxation of ammunition, identification requirements for purchasing ammo as in California (but no worries, because you can still vote without an I.D.), or outright bans on the importation of firearms and related accessories, there is an overt and sustained push to overhaul (i.e. eliminate) the rights protected by the Second Amendment.
In what can only be described as nothing short of a full-court Obama press against America's gun owners, in his weekly Saturday address to the nation the President has now taken his disarmament agenda to the next level, suggesting that it is "insane" for anyone on a watch list to own a gun.
"This tragedy reminds us of our obligation to do everything in our power, together, to keep our communities safe," Obama said in his address. "We know that the killers in San Bernardino used military-style assault weapons — weapons of war — to kill as many people as they could. It's another tragic reminder that here in America it's way too easy for dangerous people to get their hands on a gun."

Obama, who has said that failing to pass comprehensive gun reform is the greatest frustration" of his time in office, said it was ridiculous that people on a no-fly list in the United States could legally purchase a gun.

"That is insane. If you're too dangerous to board a plane, you're too dangerous, by definition, to buy a gun. And so I'm calling on Congress to close this loophole, now," he said. "We may not be able to prevent every tragedy, but — at a bare minimum — we shouldn't be making it so easy for potential terrorists or criminals to get their hands on a gun that they could use against Americans."
Keep in mind that, as Senator Rand Paul warned on the Senate floor, Someone Who Has Guns, Ammunition, 7 Days of Food can be considered a potential terrorist. Moreover, a recent report highlights scores of other reasons for why someone may qualify as a domestic terrorist:
So how does a person qualify as a potential domestic terrorist?  Based on the training I have attended, here are characteristics that qualify:

Expressions of libertarian philosophies (statements, bumper stickers)
Second Amendment-oriented views (NRA or gun club membership, holding a CCW permit)
Survivalist literature (fictional books such as "Patriots" and "One Second After" are mentioned by name)
Self-sufficiency (stockpiling food, ammo, hand tools, medical supplies)
Fear of economic collapse (buying gold and barter items)
Religious views concerning the book of Revelation (apocalypse, anti-Christ)
Expressed fears of Big Brother or big government
Homeschooling
Declarations of Constitutional rights and civil liberties
Belief in a New World Order conspiracy
And once you're on the list, there is pretty much no way to get off because the government, citing national security reasons, doesn't have to release any details and the burden of proof falls on the individual who has been identified as a terrorist, potential terrorist, or someone suspected of being a suspected terrorist.
Those secretly blacklisted have no real path to challenge their status, states a new report, thus indefinitely restricting those listed from travel or simply getting a job.

Hundreds of thousands of Americans and foreigners languish in the watchlist system, considered "known or suspected terrorists" based on secret rules and evidence that are basically impenetrable should the average suspect attempt to contest them, says a new report by the ACLU that highlights these challenges.

Source: The Daily Sheeple
Obama's latest proposal would mean that not only would those added to watch lists without cause or due process be restricted from flying or have a near impossible time getting a job, they would not be allowed to purchase firearms. The next step, of course, would be the disarmament of those who already own guns.
Also Read:
Do You Qualify as a Domestic Terrorist?
Terrorist Watch List May Exceed US Population by 2019, World Population by 2023
'Terror' Watchlists Erasing American Rights: Feds to "Revoke Passports Without Charge or Trial"
Obama Approves Substantial Expansion of Terrorist Watch Lists: "Concrete Facts Are Not Necessary"
Shock Report About Secret Obama Treaty: "Unlimited Migration From Mexico… Gun Import Bans… Ammunition Bans"
Paul to Congress: "Someone Who Has Guns, Ammunition, 7 Days of Food" Can Be Considered a Potential Terrorist