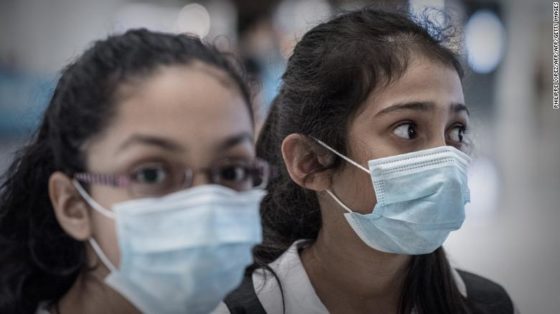 A public health expert is warning that this year's ineffective flu shot could be even more of a risk to health than previously thought, and for entirely different reasons than we might suspect.  Since the flu vaccination will "do little" to prevent the virus, the expert is warning that masks should be worn instead as a more effective way to prevent the spread of the disease.
Dr. Chris Del Mar, Professor of Public Health at Bond University has challenged the value of influenza vaccinations while speaking at the GPs Down Under Conference on the Gold Coast. According to The Sydney Morning Herald, Del Mar states that the influenza vaccine has been "oversold" in Australia and said hand- washing, and mask-wearing should instead be the focus of flu prevention campaigns.
Del Mar pointed to a review that found seasonal flu vaccines only reduced the rate of laboratory-confirmed influenza cases by between 1 to 2 percent. "Influenza is indeed a true threat to public health and I am not a vaccine skeptic in general, but annual influenza vaccinations do little to protect against serious illness," Professor Del Mar said. "My viewing of the evidence is that the amount of benefit for influenza vaccine is very, very weak and it makes me think that this is not a great use of our effort in trying to immunize large swaths of the population when there are other opportunities that may be more effective," he said.
In fact, studies have even been done to confirm that the flu vaccine not only is ineffective at flu prevention, but it spreads the virus as well.
http://www.thedailysheeple.com/flu-vaccine-bombshell-630-more-aerosolized-flu-virus-particles-emitted-by-people-who-received-flu-shots-flu-vaccines-actually-spread-the-flu_012018
Del Mar also points out that the vaccine also leads people to assume they can be laxer on the personal hygiene routines which actually are effective at flu prevention.  Simple hygiene methods such as handwashing, face masks and quarantine should not be forgotten, Professor Del Mar said.  "Perhaps we should be encouraging people to wear masks much more often than is socially acceptable in Australia but is socially acceptable in places like Japan and other parts of East Asia," Del Mar added.
"The best way not to catch something is to avoid it," said Dr. Tony Bartone, president of the Australian Medical Association.  Bartone partially blames last season's ineffective virus for the horrific toll the flu took on the public. He also agreed hand-washing was critical against controlling the spread of influenza, but he added he thinks this year's flu vaccine might be more effective.  "We must not overlook the effectiveness and importance of influenza vaccination as part of a generalized strategy to control the spread of a significant disease that has the potential to kill," Dr. Bartone said.
So instead of just protecting yourself with the hygiene methods proven effective already, doctors still suggest you inject yourself with whatever they mix up to put in next year's flu shot.
Parents are advised to ask for an ingredient list for any vaccine before vaccinating their children. It is a widely held belief that vaccines do not contain mercury or thimerosal. This is absolutely false. Since the mainstream media won't tell anyone, here's a list of the ingredients in the current flu vaccine.