CNN suggests that Insiders (corporate CEOs, officers, and board members) have gone on a stock market shopping spree:
"Insiders go on buying spree"

Corporate insiders are rushing to buy shares in their companies, suggesting that they think the recent sell-off in their stocks is overdone.

"There's a lot of buying and it's widespread across all market cap groups and all sectors," said Ben Silverman, director of research at InsiderScore.com.

…

Research firm TrimTabs calculates that insiders have already bought $861 million so far in August, the most since just over $1 billion of insider purchases back in March 2009. That's significant since it's the month in which stocks hit their lows during the last recession and started two years of steady gains.

Source: CNN Money
It's not only CNN, but all of the mainstream financial news channels and web sites that are reporting the sudden jump in insider buying. Curiously, none of the reports we read had any data whatsoever on the other side of the story –  "insider selling." They were touting only the buy side of the data and pointing to this data as a sign that the stock market has bottomed.
In reality, however, insiders are still selling more than they are buying, as evidenced by the insider seller/buyer ratio below: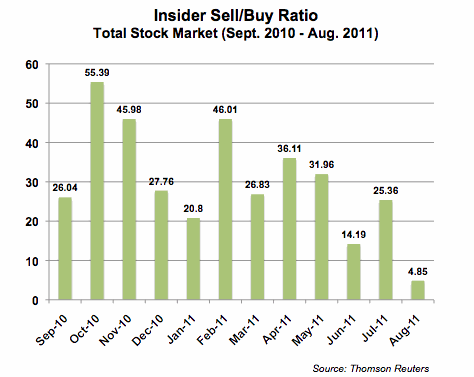 According to the chart above, insiders are still selling at a rate of 4.85 sellers to 1 buyer.
While we may have reached the lowest buyer/seller ratio of the last two years, the data does not necessarily imply we've reached a market bottom, as some analysts would have us believe. Insiders may be buying up their company stock at a faster pace, but looking at the last 12 – 24 months of insider data suggests that insiders have had serious misgivings about the health of their companies, financial markets, and the economy as a whole.
We'd be curious to know what, if anything, has changed in terms of underlying fundamentals since July (or any month depicted in the chart above) that has changed the overall outlook for our economy and financial markets.
As tumultuous, volatile and unpredictable as the financial markets are, we would strongly suggest to those of our readers that are considering purchasing stocks to, well, reconsider.
There's a reason stocks have collapsed around the world and it has to do with a serious loss of confidence in the strength of the so-called economic "recovery" and governments' ability to manage this crisis going forward.
What, exactly, is it that insiders are seeing here, other than short-term profits if the markets bounce?
We've got rising unemployment, record-levels of national debt, and consumer confidence has, by all accounts, completely crashed in the latest report.
CNN et. al. failed to mention those tidbits in their story, and it makes us wonder why.
Main Street buyer beware. We might be getting played (again).